After a really early wake up call (1am Denver time), I'm in Chicago and on my way home.  Breakfast #1 this morning was a cup of Chobani with the last of my yogurt and strawberries. My eating schedule is going to be all screwed up today and sure enough, I was starving by the time I touched down in Chicago.  I  had seen some excellent reviews on yelp for a new restaurant here from Rick Bayless of Frontera (who I mostly knew from the salsa I always see in stores but apparently he's a big deal here in Chicago).  Anyway, he has a new torta (sandwich) shop that people were raving about so I had to check it out.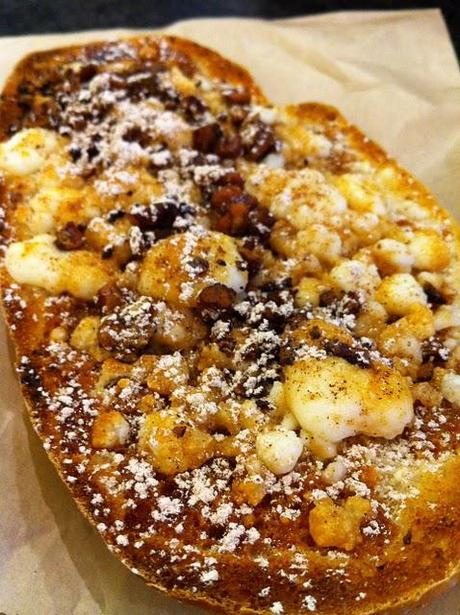 Breakfast #2 - queso and cajeta (roughly, caramel) mollette (open face sandwich).  The description from the menu reads: queso fresco, sweet butter, cajeta caramel, toasted pecans, mexican cinnamon and sugar.  Sounds delicious right?  It was!  If you've had cinnamon and sugar toast with lots of butter then you have the general idea, but elevated to a whole other level.  Definitely just the thing for a rainy gloomy Chicago morning.  ORD actually had a number of good breakfast options, I walked by a jamba juice serving steel cut oatmeal that was also very tempting (especially since I haven't had non instant oatmeal in a long time now!), and of course there's always the old starbucks standby.
I have an almost four hour layover this morning so I sprung for lounge access where I had breakfast/snack #3 - a banana and hot chocolate. :) I was planning on getting a salad @ Saladworks for my final leg but now I'm thinking I'll stop back by Tortas Frontera for either a lunch torta or salad.  I could almost do lunch at home but by the time I make it back it'll probably be 1:30ish and since I'll already be off schedule I figured I'd spare myself the low blood sugar crankiness and just eat on the plane.  Then tonight a friend is having a jewelry sales party so between that and lots of laundry it should be an activity filled day.