Bloomberg BusinessWeek report crunches the Met's numbers. by Paul J. Pelkonen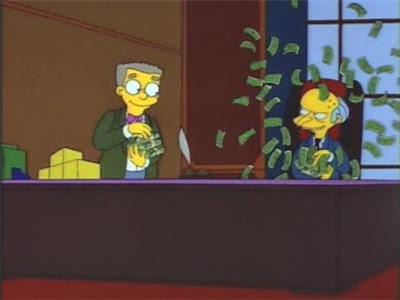 "Money fight!" No resemblance to Peter Gelb or James Levine is intended.
Image from The Simpsons Episode 1F07 The Last Temptation of Homer.
© 1993 Gracie Films/20th Century Fox.
$67,741.93.
That's how much music director James Levine made per opera conducted at the Metropolitan Opera in the 2010-2011 season, according to a report on the opera company's income tax return for that year.
A report by Philip Boroff on Bloomberg News Business Week got into the financial details of Mr. Levine's compensation, revealing that the company's music director's intake of $2.1 million was an increase from the year before. The conducor led 31 performances, including Wagner's Das Rheingold and Die Walküre and Berg's Wozzeck.
By way of comparison, Met general manager Peter Gelb made $1.4 million last season . Mr. Gelb's position included a base salary of $1.25 million, use of a car and driver and occasional first class flights.
The increase also includes conducting fees and residuals from the Met's successful Live in HD series which brings the company's opera performances to movie theaters around the globe. According to an e-mail sent to Bloomberg by Met press officer Peter Clark, the fees are in addition to the conductor's salary.
A visit to the Metropolitan Opera's public archive page revealed that Mr. Levine conducted 44 performances in 2007-2008, 52 performances in 2008-2009, and just 17 in 2009-2010. The conductor suffered a series of debilitating setbacks that year, including an injured elbow, shoulder problems and a bout with cancer.
Although Mr. Levine was scheduled to return to the Met in October of 2011, the conductor suffered a setback when he fell while walking in New England. Mr. Levine retains his post as music director, but the bulk of the work has fallen on the shoulders of principal conductor Fabio Luisi. Mr. Levine's return to the Met podium is not scheduled until the fall of 2013.
The opera company reported a $41 million surplus for the year, a vast improvement on the $25 million deficit the following year. The company's operating budget was  $321 million, an 8% increase from the previous year.
$3.9 million of that was spent on advertising.