Brought to you By Resources4Adoption
FREE Webinar with special guest Brian Murphy from Gift of Adoption Fund.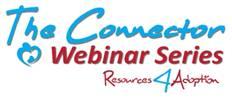 Join us for a webinar on Mar 06, 2013 at 1:00 PM CST.
Register now!

Register Here!
Gift of Adoption provides the final funds needed to complete the adoption of vulnerable children from around the world. Topics to be covered:
* How the Gift of Adoption Fund fills the void that separates child from family.
* How Gift of Adoption inspires adoption by providing grants to qualified parents – giving children who need families a permanent home and a chance to thrive.
* Learn what makes them unique from other adoption grant organizations.
* Learn the difference between parent focused adoption grants and child focused adoption grants.
* Learn about their funding priorities, history, how they select recipients and more.
* Learn how they respond to adoption crisis such as the Russian Adoption ban and the 2010 Haiti earthquake.
You will not want to miss this very informative webinar with a live Q and A following the presentation by special guest Brian Murphy from the Gift of Adoption Fund.
Be sure to join us this coming Wednesday, March 6, 2013 at:
2 PM EASTERN Time
1 PM Central Time
12 PM MOUNTAIN Time
11 AM PACIFIC Time