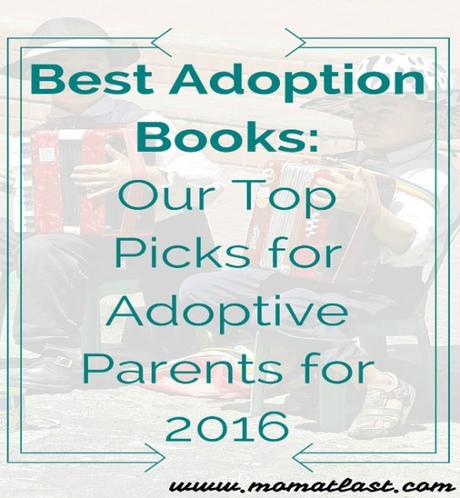 Looking for the best adoption books? You're in the right place!
We've regularly shared our top picks for the books by moms and for moms and today we're rounding up our favorite reads for adoptive parents.
Best Adoption Books for Parents-to-Be in 2016
Adoption: Choosing It, Living It, Loving It by Ray Guarendi
Psychologist, husband and most importantly, father to 10 adopted children Ray Guarendi has written Adoption: Choosing it, Living It, Loving it to dispel modern myths surrounding adoption and he does so with honesty, humor and "a heart for the adoptive family".
99 Things You Wish You Knew Before Choosing Adoption (99 Series) by Robert A. Kasky Esq.
Written by the Kaskys who have other 60 years of combined experience in adoptive law, 99 Things addresses all the important, must-know questions for the prospective parent. From general facts to risks of adoption and the responsibilities that come with it to expenses involved as well as interstate and Native American-Indian adoption, the book covers it all and then some.
The star of My Big Fat Greek Wedding Nia Vardalos is just as real, funny and charming when sharing her story of adopting a preschooler. With genuine and candid upfront-ness, Nia shares her life as an adoptive mom and how motherhood can take on many different forms.
Adoption: Child Adoption: An Introductory Guide to Adoption for Adoptive Parents (Adoption, Child Adoption, Adoption Books, Adoption Parenting) by Minka Ferguson
A quick and easy read, this book is an overview or introduction to the adoption process and also, talks about the preparation required when considering adoption.
You Can Adopt Without Debt: Creative Ways to Cover the Cost of Adoption by Julie Leanne Gumm
Adoption can be an expensive process and while most families may want to adopt, they may not have the large amount of money needed to complete the adoption.
Julie Gumm shares adoption funding strategies from her own experience and also, from others, helping prospective adoptive parents to meet expenses without going into debt.
Dignity and Worth: Seeing the Image of God in Foster Adoption by April Swiger
Written from a Christian perspective, this book is a wonderful read for anyone considering foster adoption. It tackles misconceptions and helps you change the way you may view foster adoption and everything that it involves.
In On It: What Adoptive Parents Would Like You To Know About Adoption. A Guide for Relatives and Friends by Elisabeth O'Toole
In On It is an adoption book that we reviewed when it released and it still is one of our favorites.
Written by Elisabeth O'Toole, the book is a must-read for friends and families of adoptive parents. It is particularly insightful if you aren't an adoptive parent yourself and are friends with someone looking to adopt.
The book explains the adoption process, the challenges and most importantly, has list of ways you can help!
The Open-Hearted Way to Open Adoption: Helping Your Child Grow Up Whole by Lori Holden and Crystal Haas
Open adoption is quickly becoming the way forward for parents looking to adopt. The Open-Hearted Way to Open Adoption is a book that tackles not only the why behind open adoption but also the how.
It gives parents the tools and strategies they need to navigate the open adoption waters with ease and clarity. Filled with real-life stories of the authors and other open adoption families, the book is a must-read for anyone looking to go the open adoption way.
Finally, and most importantly, our list of the best adoption books couldn't be complete with Mom At Last's founder Sharon Simons' part memoir, part love story, Mom at Last.
This book is a heart felt, inspirational, positive account of Sharon's journey to motherhood. Designed to inspire, encourage and also, empower women on their journey to motherhood, Mom at Last is a must-read for anyone looking to adopt.
What are some of the best adoption books you've read? Share with us in the comments!