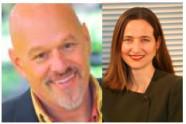 Jim Epstein and Alicia Korten
By Jim Epstein and Alicia Epstein Korten
As an investment advisor and member of the Gamble family that founded Procter & Gamble, I (Jim) am often asked to sit on nonprofit boards. I have grown uncomfortable with the term not-for-profit to describe these organizations, which often embrace business principles in their operations. For example, DC Greenworks generates income from government contracts and fees for green roof installations.
In 2002 I (Alicia) had difficulty finding graduate courses that blended business and social values. At a 2009 Net Impact conference, I was overwhelmed by the presence of over 2,000 business students interested in the common good.  When a conference attendee told me his girlfriend had complained of being assigned my father's book When Corporations Rule the World, a tome on pitfalls of global corporations, yet again as part of her MBA program, I knew the world was changing.
A new sector is being born that blurs the lines between for-profit and not-for-profit worlds.  Business used to be about jobs and profit. Civil society organizations were the avenues to give back beyond job creation and products.
Today an increasing number of businesses are building healthy communities, living wages and sustainable products into their corporate DNA. And more civil society organizations are embracing business values.
The Private Sector Has a Broader Mission
476 companies with $2.27 billion in annual revenue are certified now as B corporations, a designation given to businesses that meet environmental, governance and social criteria by the not-for-profit B Lab.
Certification has been followed by a tidal wave of state legislation giving such businesses legal jurisdiction.  Maryland, Vermont, New Jersey, California, Hawaii, New York and Virginia are front runners. In 2012 Colorado, North Carolina, Pennsylvania, Michigan and DC will likely follow.
This legislation is significant. It supersedes a body of law legally interpreted to mean corporations must consider shareholder value before taking into account other stakeholders—including communities, employees and the planet.
Jim, who played a major role in passing two of these laws, co-founded a company that will become a B corporation called Blue Ridge Produce. The company aggregates locally grown food for sale to grocery stores and institutional buyers in the Washington DC area.  With the common good built into its corporate DNA, Blue Ridge Produce aims to maintain a healthy farming community in the region and will:
provide secure markets for local farmers;
reduce the carbon footprint by keeping food closer to home; and
convert conventional growers to organic producers.
Business networking organizations like the Social Venture Network (SVN), B Lab, Social Enterprise Alliance, Investors' Circle and the Business Alliance for Local Living Economies (BALLE) are further helping the trend become a global movement.
While the Nonprofit Sector is Adopting Business Principles
Change is also happening within civil society organizations, motivated in part by technology entrepreneurs grounding their philanthropy in business values. The Skoll Foundation funded by eBay mogul Jeffrey Skoll provides grantees funding to develop engines of growth.  Called resource engines, some grantees are using funds to build business principles into their non-profit structures.
Created in 2009, the civil society organization Practice Greenhealth receives over half of its annual budget from membership dues paid by health providers like Kaiser Permanent in exchange for services aimed at greening their hospitals. Founder Gary Cohen built this resource engine after talking to entrepreneurs at the Skoll World Forum.
Language Is Powerful
Nothing captures an emerging trend like a name.
A name can in fact determine whether an idea or product popularizes or stays relegated to a small group of believers.  Just look at the dolphin fish. Only when restaurants began using its Hawaiian name Mahi-Mahi did this fish, which has no relation to the dolphin, begin to gain popularity in the United States.  After all, who wants to eat Flipper with an apricot glaze?
Social enterprise, mission-driven business and for benefit corporations are a few of the descriptors for organizations blending business principles with common good aims
We believe the movement can better communicate the power and purpose of this emerging field.
A New Operating System: The Common Good Enterprise
In our search for better lexicon, Jim came across a neglected phrase we would like to bring center stage: "the common good enterprise." Here's our definition:
A for-profit or not-for-profit organization whose primary purpose is to promote the well-being of people and/or the planet.  The organization generates at least a percentage of its revenue through the sale of goods and services (adapted from Kevin Lynch; Advertising on Higher Ground).
Why "common good enterprise"?
Its power is its clarity.
Common comes from the word "commons," which describes a relationship to the community as a whole. Common good intuitively includes a regard for the planet, respect for individuals' human rights, and support of communities.
The word "enterprise" is also self-explanatory—and speaks to revenue generated from the sale of goods and services.
Common good enterprise is clearer than other terms such as its more popular sibling "social enterprise."  Does "social enterprise" exclusively describe businesses? Or non-profits? Does "social" include the planet? Only leaps of the imagination can make the connection.
Conclusion
The labels we use for this new field matter.  Easy to grasp language provides a framework to help the public co-create this emerging sector.
Clear terms can translate into financial benefit. Why not pass legislation providing government procurement advantages to common good enterprises—whether companies or civil society organizations?  Could such language catalyze new capital pools?
It's time to embrace "common good enterprise"—a term for organizations using business principles in support of the common good that will help mainstream the movement and make opportunities this field opens up a reality.
This editorial was originally published on CSRwire's Talkback blog
Jim Epstein
Jim is the founder and Chairman of EFO Capital Management Inc., a family investment firm based in Washington D.C.  Jim is the developer of Belmont Bay, a mixed-use, pedestrian friendly community on the Occoquan River near Woodbridge, Virginia and is finalizing plans for a village development at the north end of Culpeper County, Virginia. Early in 2011 he founded Blue Ridge Produce, a local food aggregation operation that sources food from Virginia and the eastern seaboard for sale to grocery stores and wholesale and institution buyers in the Washington Metropolitan area.  Jim is a member of the Congress of New Urbanism and Social Venture Network.  His wide- ranging interests have led him to serve as Chairman of Dance Place and DC Greenworks, as a Board member at Trickles Foundation, and as an Emeritus member at Pathfinder International.
Alicia Epstein Korten
Be Your Brand
"Culture Eats Strategy for Breakfast" Peter Drucker
An award winning author, keynote speaker and culture consultant for ReNual, Alicia has led corporate culture transformation initiatives that have set offices on fire with new ideas, engaged employees, produced loyal, happy customers and increased profits.  Clients include Levis, Kimpton Hotel & Restaurant Group, Mary's Gone Crackers, Longfellow Sports Club, the Ford Foundation and the United Nations.  Her latest book Change Philanthropy is the winner of an Axiom Business Book Award gold medal.  She is a contributing author to Wake Me Up When the Data Is Over:  How Organizations Use Stories to Drive Results, an affiliate of the Social Ventures Network, a Fulbright Scholar and a graduate of Brown University. 3 facts about her: she motorcycled across Bali, lived on a garbage dump in the Philippines for a week and recently fulfilled her life long dream of swimming with dolphins.
Contact Alicia for a complimentary consultation: (703) 875 – 9139 or email her
Twitter:  @beyorbrand (or search "Alicia Korten" on Twitter)
Renual YouTube Videos
Sign up for ReNual's culture-zine at: www.renual.com