The annual series announces its lineup for 2012-2013.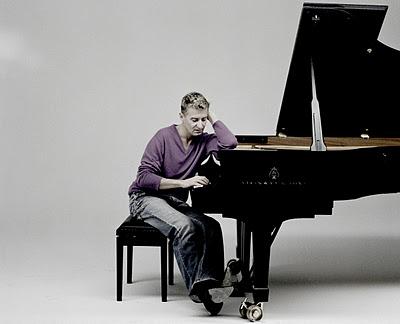 Piano man: Jean-Yves Thibaudet plays Debussy at Lincoln Center this Fall.
Photo © IMG Artists.
Of the major festivals put on annually at Lincoln Center, Great Performers is the most nebulous. It is essentially a traditional concert cycle, encompassing symphones, piano recitals and liederabend at the myriad venues of Lincoln Center. Here's what's on tap for next season.
On Oct 19, Les Arts Florissants kick things off with a program featuring the music of French composer Marc-Antoine Charpentier, a specialty of LAF music director William Christie.
 Oct 22 and 24 finds Valery Gergiev returning to Avery Fisher Hall with two programs celebrating the music of Johannes Brahms. The London Symphony Orchestra will play the Second and Fourth Symphonies, along with the Violin Concerto and First Piano Concerto.
On Oct 25, the Takács Quartet is joined by French-Canadian pianist Marc-André Hamelin, for a program of Haydn, Britten and Shostakovich. At Alice Tully Hall.
French pianist Jean-Yves Thibaudet brings his elegant touch to the music of Claude Debussy on Nov. 10 at Alice Tully Hall.
Conductor-composer Esa-Pekka Salonen brings the Philharmonia Orchestra to town for two concerts-a Nov. 18 Mahler Ninth and a complete concert performance of Berg's Wozzeck on Nov. 19 with Simon Keenlyside in the title role.
On Dec. 15, just in time for the holiday season, conductor Philippe Herreweghe brings the Collegium Vocale Gent Choir to Alice Tully Hall for a performance of Bach's Christmas Oratoorio.
The Budapest Festival Orchestra starts 2013 with a Jan. 20 concert. The program: Rachmaninoff's Second Symphony and jazzy works by Shostakovich and Bernstein. Iván Fischer conducts.
Om Feb. 3, Angelika Kirkschlager teams with British tenor Ian Bostridge for a selection of lieder by Hugo Wolf.
Completing the trifecta of British orchestras in this year's schedule is the London Philharmonic.
Under the baton of music director Vladimir Jurowski, they'll play music by Shostakovich, Beethoven and Mahler. Guest artsts include violinist Vadim Repin and pianist Hélène Grimaud.
On March 27, the Dude abides at Lincoln Center. Gustavo Dudamel brings the Los Angeles Philharmonic to town for two concerts, featuring the New York premiere of John Adams' oratorio, The Gospel According to the Other Mary. Also scheduled: a program of Debussy, Stravinsky and Viver.
 In April, Andras Schiff unleashes The Bach Project. The Hungarian pianist made his bones with Bach's music, and will play complete cycles of the French Suites (April 9) and the English Suites (April 11).
Finally, on April 25, acclaimed soprano Nina Stemme gives a recital of songs and concert arias with the Swedish Chamber Orchestra. Also on the program: Beethoven's Corlolian Overture and the Brahms First Symphony.