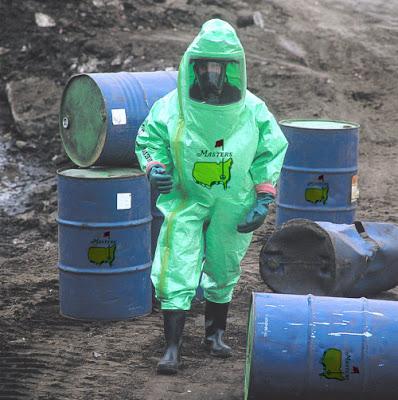 On the eve of the Masters, Augusta National looks great, whether you are viewing through a TV screen or lucky enough to be there in the flesh. No doubt it takes a considerable effort and skill to prepare a golf course to this standard. But is beauty skin deep?
Only grass is allowed to grow with all other species being exterminated. And the grass has to be greener than green. How has this all been achieved?
By using tons and tons of synthetic fertilizers, pesticides and hundreds of millions gallons of water. The exact figures are a closely guarded secret.
There is an organisation called the GEO (Golf Environmental Organisation) who provide a certificate to any golf course who can prove sustainable practices. I understand
St Andrews
is a recently certified course but
Augusta
is not. But why not simply create a transparent league table where tournament golf courses have to declare the amount of synthetic fertilizers, pesticides and water usage?
I used to believe golf was a great way to enjoy the environment, but in our modern world it is becoming saturated by synthetic chemicals. Whether these are applied to the fairways or in the sports apparel we wear.
Transparency should be the real name of the game. Tell us what you are using and in what quantities and we will all be able see any improvement in efficiency with regard to chemical and water usage.
Why should this information be kept secret? We might as well be walking in the dark.
-----------------------------------------------------