The Changing Nature of Political Satire
By Larry Bush
On the NPR radio show, "Wait, Wait, Don't Tell Me," they discussed the origin of the folk rhyme, "Georgie Porgie."  Since WWDTM is a humorous news wrap-up, they gave the origin of the rhyme the most licentious interpretation they could find.  Their conclusion about the rhyme is that it is about the sexual relationship between George Villiers and King Charles I.  Although this interpretation is reinforced by some researchers and disputed by others, there is a strong likelihood that the subject of the rhyme is George Villiers and that it originated in the late 16th or early 17th centuries In England.  The verse has appeal to children because the subject is named with a forced rhyme in the same manner as the term "heebie jeebies" has an appeal because of the forced rhyme.  But, if there were a 21st century U. S. president who was a closeted gay man, would that person be subject to ridicule or are we beyond that?  I think any ridicule in the 21st century would be directed at those who criticize a gay person's sexual orientation.
A similar occurrence is in U. S. history.  In 1802, James T. Callender revealed to the world that Thomas Jefferson was the father of Sally Hemings's children.  Callender made jokes about the little slaves at Monticello that looked like miniature versions of the President.  That joke and similar stories went viral, or as viral as could be in the early 19th century.  While Jefferson denied the relationship and Hemings was mute on the issue, DNA testing has shown that Jefferson was the father of at least one of Hemings's children.  Again, jokes about inter-racial relationships have gone on the wane over the last few decades, but jokes about unequal relationships have not.  Should Jefferson have taken the heat because Hemings was younger and black or because he, literally, owned her?  Jefferson was a widower when he was alleged to have had the relationship with Hemings, but it was illegal for a white person to marry a black person in Virginia in the early 1800s.  If they had wanted to pursue their relationship on more equal grounds, they could not have legally done that.
This month, another sensitive situation has turned into fodder for humorists.  Liz Chaney is running for the Senate in Wyoming, and one of the planks in her platform is her steadfast opposition to same-sex marriage.  Well, it would be steadfast if she had not attended the same-sex wedding of her sister Mary and wished them well.  Since Liz has dissed same-sex marriage, Mary Cheney has gone on a campaign of her own—to point out the hypocrisy of her sister's campaign.  It has caused some very public tension.  The fact of Mary Cheney's sexual orientation also haunted her father, Dick Cheney, while he was Vice President, but the Veep was able to change the subject merely by shooting his hunting partner in the face.  Actually, like Jefferson, Dick Cheney refuses to talk about family, and to this point, he has refused to say much about the controversy in his daughter's electoral campaign, but that has not stopped the humorists.  Apparently this is fair game.  I have seen no editorials chastising humorists about their treatment of the Cheney feud.  Perhaps, if it were happening in a less prominent family, it would seem more tragic, but the former second family is going to take it from the outside as they slam one another on the inside.
Following are two of my favorite Cheney sisters political cartoons: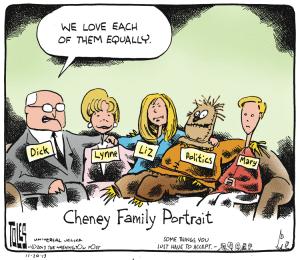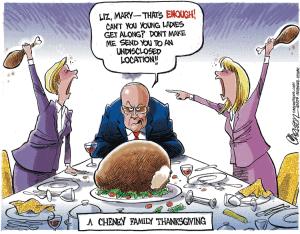 Happy Thanksgiving!
Larry Bush