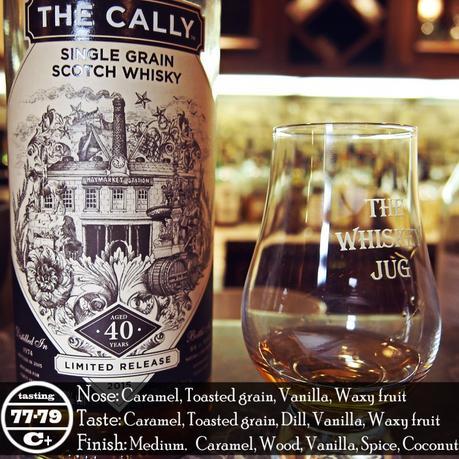 The Cally 40 Years is the only single grain whisky included in the 2015 Diageo Special Releases and hails from the Caledonian distillery which no longer exists. Caledonian was shut down in 1988 by its owners UDV (Diageo precursor) for various reasons, but barrels of this corn based grain whisky are still aging in Diageo owned warehouses today, which is where this comes from.
My guess is that the recent, relative, hotness of old grain whisky is what helped Diageo decide to throw this whiskey into the ring this year. Though, as they seemingly often do, they decided to forego any market research and price this single grain whisky as if it were a single malt. The reason old grain whisky has become kind of hot in recent years is because you can pick up 50 year old grain whiskies for as low as $250 and 36 year old grain whisky for as low as $150.
I know these are the Diageo Special releases and so opulence is the name of the game, but seriously. Does a corn based whisky that's been distilled using a column still and stored in used cooperage (sound familiar?) gain $35 in value for every year it's in said used cooperage? Lets find out; the The Cally 40 Years review is below.
The Cally 40 Years Info
Region: Lowland, Scotland
Distiller: Caledonian
Mashbill: 100% Malted Barley
Cask: Hogshead
Age: 40 Years
ABV: 53.3%
Cask Strength
Bottles: 5,060
Price: $1,400
The Cally 40 Years Review
EYE
Light caramel
NOSE
Caramel, toasted grain, vanilla, waxy fruit, Tootsie Rolls and spice with a light bit of butterscotch and a bit of coconut. Water brings out the coconut in a big way.
PALATE
Caramel, toasted grains, dill, vanilla, waxy fruit, Tootsie Rolls and spice with more light wood and coconut. Here too water pulls the coconut up to a prominent position.
FINISH
Medium fade of caramel, wood, vanilla, dilly spice and coconut.
BALANCE, BODY & FEEL
Ok balance without water – off balance with water, medium body and a waxy feel.
OVERALL
The Cally 40 Years is like a combination of a bourbon and scotch that was cut with coconut water, which is equal parts interesting and weird. I kept going back and forth between a C-, C and a C+ throughout the night with the full strength being a C+, adding water dropping it to a C- and letting it air out brought it back up to a C. In the end I decided to go with the no water added score, but It's a whisky that I'll definitely be revisiting at the LAWS bar in the future to see how time treats it and if it's worth an updated score either up or down.
The big sticking point for me, as you might guess, is the price. $1,400 for a 40 year old grain whisky is a hard dram to swallow when you can find great tasting 30+ year old grains out there for $120+ and even pick up 50 year old grains in the $250 – $300 range. Does the fact that it comes from a dead distillery warrant the massive price increase? Not in my opinion. I'll take a 36 year Girvan, 50 year North British or even a 4 year old Mellow Corn over this any day.
SCORE: 77-79/100 (C+, consumed at a tasting)