JeskaaLee was founded by Jess Marshall, an Australian blogger, model, positivity, health and fashion enthusiast in 2013. Her blog features outfit posts, style and fitness tips, inspiring quotes and so much more. Last year, Jess published her first e-book called "Be You, Be True," which includes inspiring interviews, positive affirmations, recipes, fashion, and all kinds of advice necessary to become the perfect version of yourself. Through her work and blogging journey, Jess aspires to inspire, empower and connect with like-minded people around the world.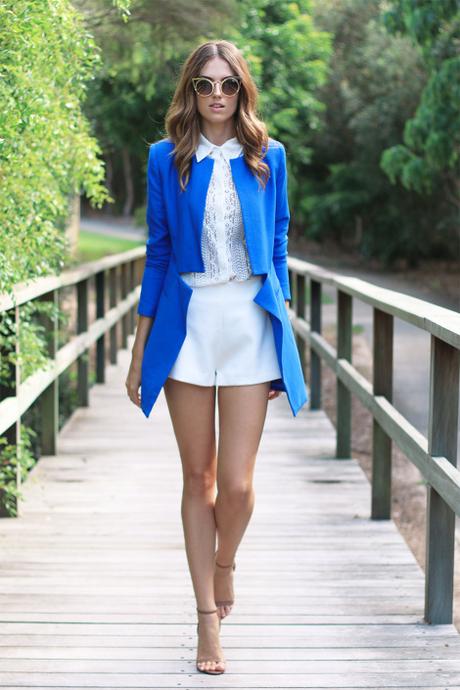 What inspired you to start your own blog?
When I think of one word to describe myself, I would definitely say I am a creative person. A few years ago, I would style myself for the day and get a quick snap on my iPhone, and share it on Instagram. I was first inspired to create my blog when someone told me I should, after seeing my Instagram outfit posts. Back then, I did not know much about blogging, so I did some research and decided it was something that I would really love doing.
How important is the name of the blog?
I believe it is important to create a name for yourself and make it something memorable and different that is, however, true to yourself. But, I think it is the content that brings your blog to life.
How difficult is to find a blog niche?
Back when I first started blogging, a lot of people I would speak to about it had no idea what it was. Nowadays, it has become one of the most popular ways of self-expression, and advertising for brands. I feel there is always space for more bloggers, you just need to find the right niche and do something different but stay true to yourself.
What is the best way to promote and grow your blog?
I feel everybody has their own way of doing this, but for me it is the growing relationships with brands and other bloggers, and collaborations with them either online, on Instagram or at events. I love meeting new people, especially the ones with the same interests as me, ones I can create with and get inspired from.
What is your main audience and how did you reach out to them?
It actually took me a little while to find my audience, but I feel my posts reach out to a lot of young girls and women. I share my stories or things I have learnt on my blog or Instagram to inspire or help them. Last year, I also wrote my first e-book "Be You, Be True" to inspire girls with outfit tips, inspiring quotes and affirmations, recipes, interviews and more. I always try my best to respond to any questions girls may have; I feel connecting with my followers is what makes my blogging journey all the more worthwhile.
How important is it for your business to attend fashion week?
To be honest I have never attended fashion week. A bit shocking, being a fashion blogger, right? So maybe it is not absolutely vital, though attending events is a great way of networking and getting to know people who you may possibly collaborate with. Of course, I would love to attend one day, but I feel you can still have a wonderful presence online as a blogger even if you do not attend all the events.
What are the best tips for building long-term relationships and partnerships with brands?
I believe you need to be working with brands that are true to you, and keep in touch discussing different ideas about keeping your collaboration fresh. I get contacted by many labels on a daily basis, and I get so excited about some of them because they are right up my alley and are something I really believe in and want to support and share. I do however kindly decline a lot of collaborations that may not be quite my liking or style, as I feel representing a brand or label that is not true to me would be false advertising.
What is the biggest challenge about running a blog?
For me, blogging is not a full-time job – hopefully, it will be one day – so fitting it to my schedule can be challenging and a little stressful some times. I try my best to get done as much as I can, whenever I get the time; after all, it is meant to be an enjoyable activity!
What advice would give to anyone looking to start a blog today?
Go for it! If it is something you are passionate about, do your research and decide what sort of blog you want to put out there. The most important thing is to stick true to yourself and have fun.
What are your ultimate plans for your blog/blogging career?
I would love to travel to different countries and experience different cultures, fashion and food. Ultimately, I want to continue inspiring others through my blog and advice, and help women be more positive and believe in themselves – be it styling an outfit, getting motivated for a workout or lifting their confidence.
jeskaalee.com
Images © Jess Marshall via JesKaalee
A.