The Boy Scouts of the USA should pack up and move to Russia. Apparently out of step in a country that has embraced political correctness and intent on lunging ineptly into socialism, the Boy Scouts and the USA are clearly at odds.
Certainly the national administration of the Boy Scouts of America may decide to betray their roots and give in to an increasingly dictatorial Washington Tsar who appears hellbent on destroying what he sees as a Colonial America. Enter the Boy Scouts who have slipped into the cross hairs of a president who supposedly shoots skeet but can't provide photographs to back up his claims. Russian citizens wouldn't hesitate to call that lying.
The Boy Scouts do have options other than surrender but may not see the options at play amidst all the din of America's politically correct and fawning media.
In Russia the state pays for pro-life advertising to stem the tide of abortions and it is the state that welcomes and actively promotes the teaching of faith in public schools and other public institutions. This same state is not afraid to stand up to a same-sex marriage agenda and has their own version of the Boy Scouts, called кадеты школы, "Cadets School."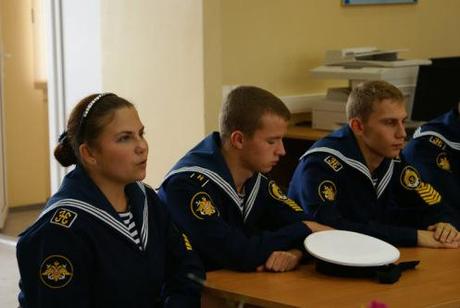 Some young students attend Russian military style cadet school.
Russian children are given the option to join the youth cadets, a school system that teaches all the academic disciplines while adding basic military cadet training at early ages. Think of the Boy Scouts with guns. Gasp! California Senator Feinstein would faint at the thought. It would seem that she believes only her personal bodyguards should handle guns.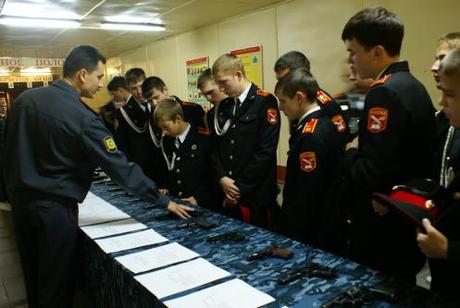 Moscow Cadets school. Firearms introduction.
Hell, this is a country where the president wrestles with lions and shoots big game in the forest. He doesn't need to fabricate stories about shooting skeet. Russian student cadets are taught to responsibly handle real guns. They learn other things too like responsibility and truthfulness, and being helpful and serving their country–the very themes that resonate so well with American Boy Scouts.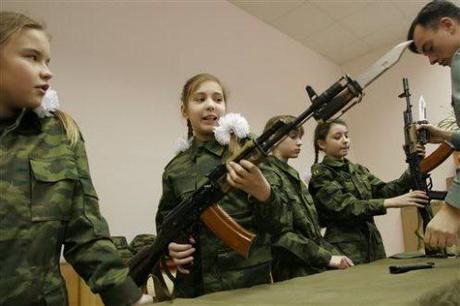 Moscow Cadet School #9. (AP Photo/Alexander Zemlianichenko II)
Only one in 10 applicants are accepted and parents decide whether to enroll their children in Cadet classes. A review board meets with both parents and student to ascertain the students willingness to participate. There are over 500 cadet schools in Russia.