A month ago, Disney's high profile gamble Tomorrowland suffered the worst Memorial Day debut for a big budget release since Prince of Persia: The Sands of Time in 2010, making it a financial failure after a mere 4 days. When the industry trades contacted Disney's chief of distribution Dave Hollis for a comment it was not unlike a White House Press Secretary attempting to spin dwindling approval ratings into a positive. "We knew we had an original intellectual property and that it would take a beat for people to find it," he told The Hollywood Reporter before telling Variety, "[It's] an original movie and that's more of a challenge in this marketplace. We feel it's incredibly important for us as a company and as an industry to keep telling original stories."
What else was he going to say? "Geese, we really dropped the ball with our marketing campaign, but, you know what, director Brad Bird and screenwriter Damon Lindelof really dropped the ball too. The movie they made isn't that great, despite its good intentions." Of course he wasn't going to say that. Instead, the explanation was simply that original movies are a tough sell, but the internet called bullshit on that. For starters, Tomorrowland isn't even entirely original since it's name and general ethos is inspired by a Disney theme park attraction, and Disney's marketing was surprisingly obtuse and misguided even though the film's extra long production cycle gave them literal years to build up excitement.
Hollis might have taken all of the criticism to heart because rather than lead with "original" to celebrate Inside Out's record-setting debut ($90.4 million domestic) he chose to lead with another buzz word: "quality." As he told THR, "John Lasseter has said that quality is the best business plan, and the cornerstone of every Pixar release. Quality in this case translated into Inside Out becoming the biggest original opening in the history of the movie business by a stretch [the previous record holder, Avatar, only opened to $77m]. It's so relatable with its characters, so sophisticated, drawing in both adults and families. We knew we had something extraordinary when 9PM showings were selling out."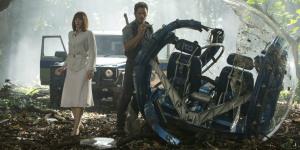 Granted, Inside Out still finished behind Jurassic World in the box office top 10, but it took Jurassic World having the biggest second weekend of all time ($106.5m) – even bigger than The Avengers! ($103m) – to beat them. This does mean that Inside Out is the first Pixar movie to not open at #1, but it also means that Inside Out is the new record holder for biggest opening weekend to not finish #1, beating The Day After Tomorrow's $68m from 2004.
Going into the weekend, the race for the top spot wasn't even supposed to be all that close, with Inside Out projected to make somewhere between $65m and $75m. However, as I covered in far more detail last week the pre-release tracking services the studios utilize do not sample children under the age of 12 or families as a whole and are thus notoriously bad at predicting how family films will perform, having previously been way off in projections for films like Despicable Me 2 and Monsters University. Plus, it's hard to predict what kind of bump a film like Inside Out will get when the Sunday of its opening weekend just happens to be Father's Day.  So, while it is certainly impressive to see what Jurassic World pulled off it's also pretty much exactly what had been projected prior to the weekend, albeit a couple million higher (it wasn't supposed to go above $103m). Inside Out stands out just a little more because of how thoroughly it trounced expectations.
It is, tempting, then to crown Inside Out some kind of symbolic champ. As the box office estimates were coming in on Sunday, I personally noticed multiple people on Twitter expressing general gratitude that an original movie like Inside Out was doing so well (even if though the basic premise is very similar to Herman's Head). It wasn't exactly a rallying cry of "Down with franchises, up with original properties!", but I did get the sense that Inside Out is to be celebrated for what it represents just as much as for its merits as a movie. That's a tricky line of thought, though, because let's be honest with ourselves here – Inside Out is not really some random original film that took the box office hostage alongside Jurassic World this weekend. It's a Pixar movie. It is branded entertainment from a company whose track record at the box office is only rivaled in modern movie history by Marvel Studios:
1995 – Toy Story
Domestic/International/Worldwide=$191.8m/$170.2m/$362m
1998 – A Bug's Life
Domestic/International/Worldwide=$162.8m/$200.6m/$363.4m
1999 – Toy Story 2
Domestic/International/Worldwide=$245.9m/$239.2m/$485m
2001 – Monsters, Inc.
Domestic/International/Worldwide=$255.9m/$272.9m/$528.8m
2003 – Finding Nemo
Domestic/International/Worldwide=$339.7m/$555.9m/$895.6m
2004 – The Incredibles
Domestic/International/Worldwide=$261.4m/$370m/$631.4m
2006 – Cars
Domestic/International/Worldwide=$244.1m/$217.9m/$462m
2007 – Ratatouille
Domestic/International/Worldwide=$206.4m/$417.3m/$623.7m
2008 – Wall-E
Domestic/International/Worldwide=$223.8m/$297.5m/$521.3m
2009 – Up
Domestic/International/Worldwide=$293m/$438.3m/$731.3m
2010 – Toy Story 3
Domestic/International/Worldwide=$415m/$648.2m/$1.06 billion
2011 – Cars 2
Domestic/International/Worldwide=$191.5m/$368.4m/$559.9m
2012 – Brave
Domestic/International/Worldwide=$237.3m/$301.7m/$539m
2013 – Monsters University
Domestic/International/Worldwide=$268.5m/$475.1m/$743.6m
Clearly, in recent years Pixar has become sequel happy, seen by some as evidence of it slowly losing its artistic soul to Disney. At the same time, John Lasseter ascended to overseeing both Pixar and Disney Animation Studios, and he seems to have transferred some of the old Pixar magic to his new company which is on a roll with Wreck-It Ralph ($471m worldwide), Frozen ($1.27b worldwide) and Big Hero 6 ($652m worldwide). By taking 2014 off, even though that was due to an unforeseen delay, not by strategic choice, Pixar effectively allowed absence to make the heart grow fonder, and came back with a strong marketing campaign for Inside Out, screening the entire film for enthusiastic theater owners at CinemaCon in April. Thus began the euphoric word-of-mouth and eventually reviews emerged hailing Inside Out as Pixar's best since Toy Story 3, which in box office terms is tantamount to saying, "This is the best thing they've done since that one movie which grossed over $1 billion worldwide."
However, I wouldn't hail this as a triumph of originality; it's more of a return to form for a beloved brand. I don't think Hollywood will look at Inside Out and see the upside of pushing more original properties. Hollywood will probably just think, "Dang, it really kicks ass to be Pixar." And yet after a brief return to originals with Inside Out and The Good Dinosaur this year Pixar's next two up are sequels, Finding Dory in 2016 and Toy Story 4 in 2017.
There is another angle here, though, eloquently laid out by Eliana Dockterman of Times.com:
"Pixar successfully pitched audiences on a movie about the personified emotions of an increasingly depressed 11-year-old girl they didn't know named Riley. (Oh, and Riley isn't a princess.) That's no easy feat. Hollywood has long subscribed to the notion that movies with female protagonists don't sell. Only 12% of protagonists and 30% of all major characters in the top 100 grossing movies of 2014 were women, according to San Diego State University's Celluloid Ceiling Report. The problem is even more dire among children's films, which are often based on fairytales that date back to a darker time for women. And original animated films, from Toy Story to Shrek, tend to sideline women in favor of men. There's only one female character for every three male characters in family films, according to the Geena Davis Institute on Gender in Media.

What's so radical about Inside Out — besides the fact that it maps out an entirely new world inside our brains — is that it's about a normal girl with normal problems. Her two main personified emotions, Joy and Sadness (Amy Poehler and Phyllis Smith, respectively) are also women and spend the film trying to help their preteen host. Will she make the hockey team? Can her friendships withstand her move from Minnesota to San Francisco? Her mind is the centerpiece, and we only get glimpses at what Riley actually looks like. There's no throne at stake and no noble prince to save her.
Sure enough, Inside Out skewed 56% female this weekend, 71% families.
As Dockterman went on to point out, Inside Out seems like Pixar's more assured second crack at making a movie with a female lead, having disappointed many with the character of Merida in Brave, "The first female Pixar hero was not only a princess but also a princess whose main concern was marriage — or how to get out of it. The resolution of the film comes when Merida is permitted to be another female stereotype, the tomboy, without having really learned anything from her journey."  Inside Out, on the other hand, allows its triumvirate of females – Riley, Joy and Sadness – "to function in a universe where their gender doesn't much matter, and they grow and learn just like Woody in Toy Story or Carl in Up. In these largely conservative children's films, that's revolutionary."  So, while Inside Out might not really teach Hollywood the upside of originality it might at least open the door to some better female representation in family films.  At the very least, surely the kid playing with the toys in the next Toy Story will be a little girl instead of a little boy, unless they really deviate from Toy Story 3's ending.
This Weekend's Actual Box Office Top 10 Totals (6/19-6/21)
1) Jurassic World
Production Budget=$150m
Weekend Gross (Domestic)=$106.5m
Weekend Gross (International)=$160.5m
Domestic/International/Worldwide=$402.8m/$583.1m/$985.9m
It is now officially the fastest movie to $400m domestic, and by the close of today it will be the fastest movie to $1 billion worldwide.
2) Inside Out (Debut)
Production Budget=$65m
Weekend Gross (Domestic)=$90.4m
Weekend Gross (International)=$41m
Worldwide=$131.4m
3) Spy
Production Budget=$65m
Weekend Gross (Domestic)=$11.2m
Weekend Gross (International)=$9.6m
Domestic/International/Worldwide=$75m/$96m/$171m
4) San Andreas
Production Budget=$110m
Weekend Gross (Domestic)=$8.7m
Weekend Gross (International)=$18.8m
Domestic/International/Worldwide=$132.6m/$282m/$414.6m
5) Dope (Debut)
Production Budget=$65m
Weekend Gross (Domestic)=$6.1m
Weekend Gross (International)=Nothing
Total Debut: $6.1m
6) Insidious Chapter 3
Production Budget=They're not telling
Weekend Gross (Domestic)=$4m
Weekend Gross (International)=$3m
Domestic/International/Worldwide=$45.2m/$32.2m/$77.4m
7) Pitch Perfect 2
Production Budget=They're not telling
Weekend Gross (Domestic)=$3.5m
Weekend Gross (International)=$1m
Domestic/International/Worldwide=$177.6m/$94.5m/$272.1m
8) Mad Max: Fury Road
Production Budget=$150m
Weekend Gross (Domestic)=$3m
Weekend Gross (International)=$4.9m
Domestic/International/Worldwide=$143.8m/$202.5m/$346.3m
9) Avengers: Age of Ultron
Production Budget=$250m
Weekend Gross (Domestic)=$2.8m
Weekend Gross (International)=Total not available
Domestic/International/Worldwide=$449.4m/$917.2m/$1.36b
10) Tomorrowland
Production Budget=$190m
Weekend Gross (Domestic)=$2.2m
Weekend Gross (International)=Total not available
Domestic/International/Worldwide=$87.9m/$102.9m/$190.8m
What Left the Top 10?: Entourage (Current total: $29.6m domestic), Love & Mercy (Current total: $7.1m domestic)
What's Up Next?: The Thunder Buddies are back in Ted 2, and Warner Bros. tries a dead-army-soldier's-dog-is-adopted-by-his-grieving-younger-brother movie called Max
Sources: Rentrak, THR, BoxOfficeMojo, Times