Cellist David Finckel leaves the Emerson String Quartet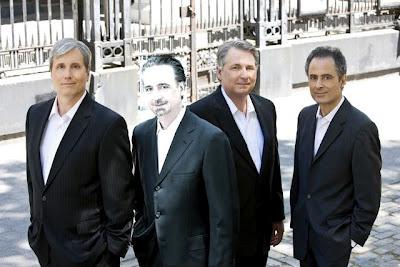 David Finckel (second from left) is leaving the Emerson String Quartet.
Photo provided by Kirshbaum and Associates, edited by the author.
The Emerson String Quartet is undergoing its first lineup change in 33 years.
Cellist David Finckel announced this morning that he is leaving the award-winning chamber ensemble to concentrate on "personal artistic endeavors." He joined the Emerson String Quartet in 1979.
Mr. Finckel stated: "During the past year, after much soul-searching, I came to the realization that it would be sensible to make the 2012-2013 season my last in the Emerson Quartet."
In addition to his duties with the Emerson Quartet, Mr. Finckel serves as the co-chair of Chamber Music at Lincoln Center, an annual concert series offering over 200 events a year at Lincoln Center. He shares the position with his wife, pianist Wu Han. The duo were named Musicians of the Year in the 2011 issue of Musical America. 
His replacement is Paul Watkins, a Welsh cellist who is currently music director of the English Chamber Orchestra. Mr. Watkins is an acclaimed recording artist in his own right, who is currently recording a survey of solo 'cello works by British composers.
 Mr. Watkins said: "I am filled with joy and anticipation at the prospect of exploring this unparalleled repertoire with the members of this legendary quartet. I am also acutely conscious of the enormous contribution David Finckel has made, not only to the Emerson Quartet, but as an artistic leader of uncommon energy and vision. I will make every effort to honor his extraordinary legacy."
Mr. Finckel added: "My heart is warmed by the knowledge that Paul Watkins' enormous gifts as a cellist and musician will fuel the Emerson's onward journey with vibrant energy and fresh perspectives. I could not be happier to see him take my chair, nor can I wait to hear how marvelous the quartet will sound in its new incarnation."
Formed in 1976 and named in honor of the American poet Ralph Waldo Emerson, the Quartet emerged in the late 20th century as a potent voice in American chamber music. Its recorded achievements include complete cycles of the string quartets of Beethoven, Bartók and Shostakovich.