The Book of Mormon Chicago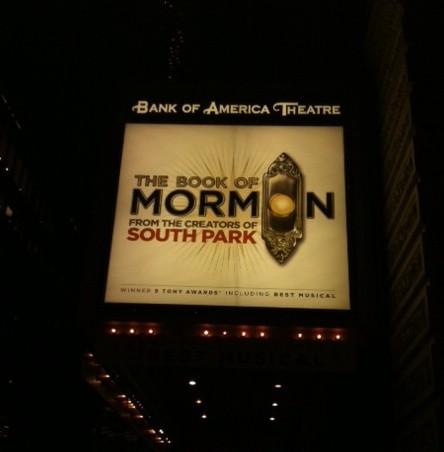 Before you sit back and think "wow, she's writing about religion" think again! This is not a post about religion as that's not my niche. This is about a Broadway production I had the pleasure of attending last Monday. The Book of Mormon opened last week for the first time in Chicago. I had the honor of being in the first audience to actually see the play before its official December 11thopening date.
A friend of mine contacted me and asked if I wanted to see the Book of Mormon with her. Since I've never been to a Broadway in Chicago production, I decided to take her up on her offer. This was a live dressed rehearsal but you wouldn't have known that from being in the audience.
When she mentioned the title to me, I immediately thought it was a religious production. Anyone who knows me knows that I'm more of a Kinky Boots girl and not so much a Book of Mormon chick. I imagined it being a snooze fest, especially after being so busy at work that day. I envisioned my friend tapping my leg to wake me up and chewing stick after stick of gum in an attempt to stay woke. Well as they say never judge a book by its cover, I was totally wrong about this one!
The Book of Mormon turned out to be an awesome production that kept me entertained from beginning to the end. The musical performances combined with the fact that it was funny as all hell made me grateful that I was able to see it. The cast was amazing and the storyline was quite interesting.
I will say that if you're religiously sensitive or if you can't see a connection between religions and somewhat crass comedy then this would not be something you would want to see. After all, it is from the creators of South Park. But if you're looking to be entertained and to spend a few hours laughing then this would definitely be the production for you!
I considered this an early Christmas present

Click here to find out more information about The Book of Mormon. The production will be in several cities throughout 2013.