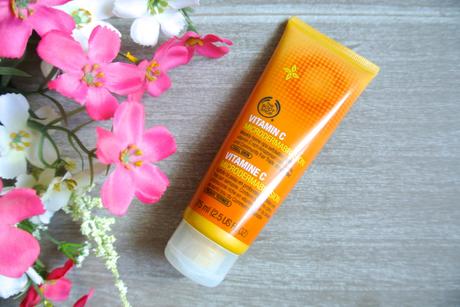 I think I'm pretty safe in saying that I'm one of the biggest lovers of The Body Shop there is, nearly all of my skincare is from there and I can honestly say I haven't tried one thing yet that has disappointed me. Saying that, all of my facial skincare is purely from the vitamin E range and I've found myself weary of trying other pieces in case it makes skin bad, as at the moment I seem to be doing pretty well! A few weeks back The Body Shop had one of their famous discount events, and I decided to take advantage of the 'spend £50, get £25 off' picking up a few pieces I wouldn't normally have went for.
One of those pieces being this orange tube of good-ness, the Vitamin C Microdermabrasion. As someone who has leaned more towards chemical exfoliants rather than the traditional scrubs I was slightly worried about how my skin would react, but the crystals in this really are tiny and you barely feel like you're using a 'scrub'. I use the term scrub lightly by the way, as the whole point of microdermabrasion is that the crystals are exactly that – micro, and the changes are subtle with no scarring or irritation. It's recommended that after professional microdermabrasion you leave 24 hours to leave your skin to calm down as sometimes it can be a little pink, but for me using the Body Shop's offering I've never experienced this. And if anyone was going to get pink skin, I think I would!
It seems quite creamy when you first apply this to your face, but a you massage it in circular motions you can ever so slightly feel the tiny beads buffing away the dead skin cells. Microdermabrasion works by essentially removing the outer layer of skin, leaving fresh, smooth, new skin underneath. Although I don't really have any scarring or discolouration to note any changes in, in general I definitely think this has helped to improve the overall texture and brightness, the day after I've used this my skin feels extremely soft and my complexion definitely looks more radiant! I used to have very dry and sensitive skin but over the past few months it's changed to be a little more combination, and I do think that if it was still in the dry and sensitive state I'd be less inclined to use this just in case it irritated it even more. However, my face is flake free at the minute and my makeup is sitting nicely so maybe this is helping with that!
The only thing I'm not too sure about it the smell, I expected it to be a strong citrus scent and whilst it is a little…. I think it's more citrus cleaning products than oranges! If that's the only downside though, I think I can let it slide. At £14 I think it's a really good price for the quality of the product you get, and you don't need to use a lot so this tube should last quite a while. As far as useage of Vitamin C Microdermabrasion goes, I think I'd use this no more than twice per week personally, but it all depends on how your skin reacts to these type of products! Just remember to make sure you're using suncream when you're using a product like this as they can leave your skin more sensitive to the skin, and nobody wants sunburn (or wrinkles!) do they?
What do you think, would you try the Body Shop's take on microdermabrasion? Have you tried any other products like this you think I might like? Let me know so I can go waste more money on things I don't really need ;)