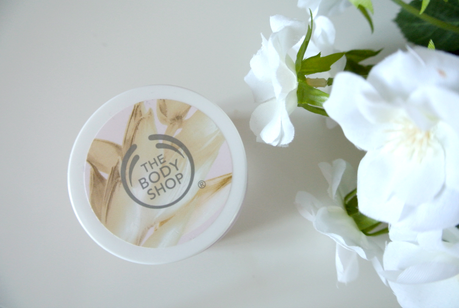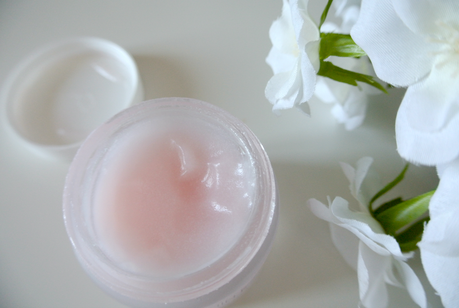 Whilst I was at The Body Shop event a little while ago one of the products I got to bring home to try out was the new Vitamin E Aqua Boost Sorbet*. I've tried a few things from the Body Shop's Vitamin E range before and really enjoyed them so I was very excited to try out the new sorbet, something which is a totally new concept to me! I usually stay away from gel type moisturisers as I just don't find them as moisturising to my skin as the normal creamy lotion kind, but this was a nice little surprise as I'm really enjoying using it.
The texture of the Aqua Boost Sorbet* is one of the strangest I've came across when it comes to skincare, it's not quite a gel but definitely leans more to that than your average lotion, it's a bit like a pink jelly to be honest! It's so, so cooling to the skin which is one of the reasons I've really fallen in love with this product. As soon as you apply it your face feels instantly refreshed, and as it takes no longer than a minute to sink in, instantly soft too. These are the claims made by the Body Shop: "An instant cooling sensation for all day hydration. This silky-soft moisturiser hydrates and refreshes skin with an ultra-light light formula". And you know what? I definitely agree with all of them. It does make your face feel like silk, and it is one of the lightest.. if not THE lightest.. moisturiser I've ever tried. This would be perfect to wear underneath makeup as it's nourishing enough to provide a nicely hydrated base, but isn't greasy or tacky in any way that might interfere with your makeup. The only downside is that there's no SPF in this product, but as it's so light anyway you can add your favorite on top and your good to go.
I can't quite put my finger on what it smells like. Part of me thinks it does smell a little like cream that old ladies would use on their face, and part of me thinks it just smells like 'clean', whatever that smells like. My sense of smell isn't my strong point and my mam will even back you up on that one! Basically, it's a nice smell. Not too bad, not overpowering, just an average moisturiser type smell. I also can't believe the Aqua Boost Sorbet* is only £12! It feels a lot more luxurious than that in it's little glass pot, I know a lot of people don't like that type of packaging as it makes it awkward for travel but for me it's a winner.
I definitely rate this moisturiser as up there with the best of them, I can see it working on any skin type and it's really affordable for a good skincare product. What more could you want?
*PR sample