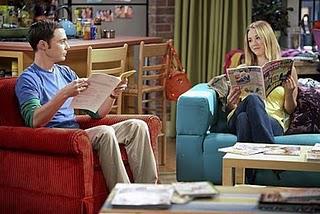 Original Air Date: 22 September 2011
Storyline: Amy gets inadvertently caught in the middle of a fight between Sheldon and Penny regarding a new chair that Penny has acquired. Leonard takes Howard's advice and tries to add some spice to his long-distance relationship with Priya.
Trivia: This episode aired at a special 8:30 time, immediately after the season premiere.
Best Quote:

Sheldon

: Name your price.




Amy

: Kiss me where I've never been kissed before.




Sheldon

: You mean like Salt Lake City?




Amy

: Nevermind. I'll talk to Penny.


Review: CBS aired back to back episodes of The Big Bang Theory last night, treating us to an extended premiere that included "The Infestation Hypothesis", an installment that takes a step back from the Penny/Raj drama and instead focuses on the long-distance relationship between Leonard and Priya.

Amazingly, Leonard takes advice from Howard regarding spicing up his romance with some cyber sex, but, of course, things don't go exactly as planned. He was hilarious while trying to sound kinky but ended up calling Priya "dirty, disgusting, revolting". Sheldon interfering by giving him advice on how to make the video stream work made me laugh out loud.

The funniest moments involving Leonard, though, were his reactions when Howard and Raj test out the internet kissing device, with Wollowitz giving his friend advice on how to French kiss, but thinking it was weird only when Raj tried to be playful and bit his tongue.

The rest of the episode focused on Penny's new chair - one that Sheldon finds very comfortable up to the point where he finds out she picked it off the street. I will probably have nightmares after Sheldon's day dream with him covered in bugs. Both the interactions between Penny and Amy and those between Amy and Sheldon were absolutely hilarious, I just loved how Amy called out on his OCD and when she asked him to kiss her where she's never been kissed before in exchange for convincing Penny to get rid of the chair.

The best part of the episode, however, has to be Sheldon and Penny pretending to be married. I couldn't stop laughing at his "On the way to see the lawyer, pick up some tea and cookies" after she said she wanted a divorce. Also, Leonard calling Sheldon out on his crap about not exaggerating things was pretty amusing.This second installment was a lot better than the first episode and I am so happy fall has come and this show is back on the air. Jim Parsons definitely deserved the Emmy award he won last week and I hope he keeps it up in the future. The Big Bang Theory 5x01: The Skank Reflex Analysis

Back to Season 5