We can't deny the fact that almost every adult suffers from a ranging level of body pains, aches, and sprains.
Having a whirlpool tub at home is increasingly becoming one of the best therapy for these problems. 
It can certainly help you relax after a long day at work by providing body massage through small water bubbles that may or may not be heated. 
So, what is the best whirlpool tub, consumer reports? 
In today's post, you'll find out the 7 best whirlpool tubs to buy on the market.
Whirlpool Tubs: 7 Best Reviews of 2020
Take a look at the best tubs which we are going to review below:
Woodbridge 71-inch Freestanding Whirlpool Tub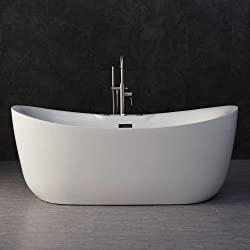 Shop Now at Amazon
Our overall best whirlpool tub comes from Woodbridge. Made in a simple design with a super-lengthy dimension, it is suitable for two bathers simultaneously. 
The product's jets have high resistance and stability provided by the stainless steel construction. The tub's body is made of sanitary-type LUCITE acrylic and is reinforced with quality resin and fiberglass materials. 
The hydromassage bathtub has an elegant white design, and chrome-coated drain and overflow. Its dimension is 71 x 31 x 29 inches. The maximum water depth up to the overflow level is around 14 inches. 
Also, it incorporates 10 adjustable jets for body massage and 10 whirlpool jets for bubble baths.
The product features changing LED lights to carry out a "color therapy". It also includes all the necessary materials to carry out the assembly.
Empava 59-inch Hydromassage Whirlpool Bathtub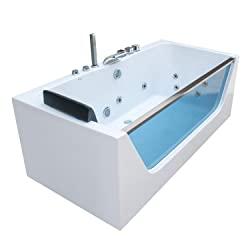 Shop Now at Amazon
Direct from California comes this hydromassage bathtub model. It has a rectangular shape with a dimension of 59.5 inches in length, 29.5 inches of width, and height of 22 inches. It can take up to 42 gallons of water and is designed to be used by two people. 
The Empava 59-inch hydromassage bathtub is a soaking bathtub with a center drain. It has a bearing capacity of up to 600lbs. 
The model can be mounted in any interior space of your home; in a corner or the center of your bathroom. Its white structure has well-made finishes that show the high level of quality characteristic of the brand. 
It's made of certified and resistant acrylic with a reinforcement of fiberglass, and a frame support made of stainless steel. 
The tub has no LED or heating system. However, the Empava product is provided with a 1 horsepower water pump. There's a total of 11 water nozzles with variations in their sizes that promote relaxation. 
Four small water jets are directed to the bather's lumbar region, three to the body region, and four more in the foot region. You can adjust the inflow angle and the flow rate by controlling the head of the jets. 
Empava 48-inch Freestanding Whirlpool Tub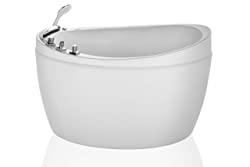 Shop Now at Amazon
Among the best whirlpool tubs of 2020 is this model by the well-known Empava brand. It has an elegant design, with a spacious and resistant structure, and a much higher depth. 
Its exterior dimensions are 48 inches length, 32 inches width, and 21 inches depth. It is a bathtub suitable for a maximum of two people.
As for the construction materials, you have the combination of sanitary acrylic and reinforcement of convenient fiberglass coating that prevents scratches. The bathtub incorporates a series of jets that produce thousands of bubbles. 
These provide different therapies that lighten the level of stress, offer massage, and relieve muscle discomfort. Also, it features a chrome drain and overflow. 
The Empava 48-inch whirlpool is certified by UL and cUPC. A 5-year limited warranty covers leakages, the tub feet, overflow, knobs, drain, and jet. 
American Standard 2774018W Whirlpool System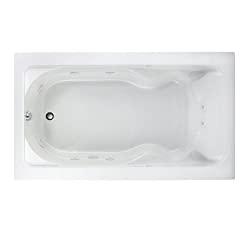 Shop Now at Amazon
American Standard is one of the best brands in bathroom and plumbing product manufacturing. This whirlpool tub system from the brand has managed to capture the attention of buyers due to its spacious design, hydromassage system, and the quality of the material. 
It is made of sanitary-grade acrylic material and coated with fiberglass. In this sense, it is a product resistant to both the weight supported and the scratches that may arise with constant use and washing.
The structure has an elegant aesthetic in white. Its dimensions are 72 x 42 x 19-¾ inches and it weighs around 163 lbs. 
Also, there's the incorporation of 8 multidirectional jets with massage, relaxing and air-jet functions. There's a self-draining 2HP motor/pump. 
Finally, with this model, you will have a resistant product, intuitive in operation, and with elegant aesthetics.
Woodbridge 67-inch Freestanding Whirlpool Tub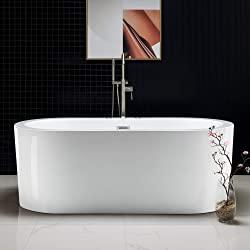 Shop Now at Amazon
If you want to buy the best hydromassage bathtub for the money, we invite you to check out this product from Woodbridge. It is also one of the cheapest in our list. 
It has a structure with dimensions of 65 x 31 inches and is designed to be used by up to two people simultaneously. 
For its manufacture, certified materials such as fiberglass, acrylic, and resin were used in the structure. The surface is coated with high-gloss enamel finished in white. 
The whirlpool tub has full draining jets made of stainless steel. There are also mood lamps installed underwater. 
The 10 jets for body massage are adjustable. There are also 10 bubble bath jets for whirlpools that offer optimal comfort for bathers. 
The bathtub offers a great hydro massage using the mix of water and air. 
BHBL DK-Q411 Whirlpool Tub with Computer Panel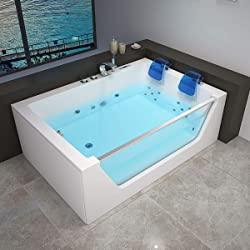 Shop Now at Amazon
When thinking about acquiring a hydromassage or whirlpool bathtub, we form certain expectations regarding the functions offered, the resistance of the structure, and the projected aesthetics. 
In this sense, a recommended model is the BHBL DK-Q411. It is a 69-inch bathtub, designed to offer a space for relaxation and comfort suitable for two people.
This is a whirlpool tub made of acrylic material and reinforced with high-quality fiberglass. The product includes two pillows, drain, overflow, and faucet combination. 
This bathtub has been provided with a practical and intuitive control panel from which you can program its operation. 
The tub comes with taps with a chrome finish that protects it from corrosion. It is important to mention the incorporation of a powerful blower and heater with a power of 1,500 watts. 
With a heating system, ozone disinfection technology, light therapy, and a total of 12 air jets, this bathtub has a high-end power and attractive design, which will offer you intuitive operation and low electricity consumption.
ARIEL BT-150150 Massage Whirlpool Tub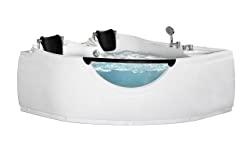 Shop Now at Amazon
The Ariel bathtub is also one of the best hot tubs on the market. Its structure has a spacious format that measures 61 x 61 x 26.9 inches. 
For its manufacture, sanitary-type acrylic in a bright white tone with fiberglass, and acrylonitrile butadiene styrene are used. These are certified and high-end materials that make up a structure with a weight of 293 pounds.
This 2-person hydromassage bathtub incorporates a convenient automated sterilization system. There are multidirectional water jets and waterfall faucets. 
Likewise, it is equipped with a practical handheld shower, a water pressure regulation mechanism, an LED light, and a pair of cushions. 
There's also the computerized control panel, from which you can listen to your favorite tracks while bathing. 
Conclusion
The whirlpool system is a hot tub designed to produce hydro massage, relieve users of stress, and be used by 1 to 5 people.
Are you looking for a bathtub to enjoy individually or with your family or friends? Then you will find your choice in our list of the 7 best freestanding whirlpool tub products.