Source: snippetandink.com via Claire on Pin­ter­est
The best real wed­ding blogs
Love this win­ter won­der­land wed­ding on Lon­don Bride blog! Clemency and Tom — with tons of great details and a really atmos­pheric venue
I used baby's breath (gyp­sophila) to dec­o­rate my stand at the wed­ding fair… and I fell in love with it. Lau­ren

&

Grant's wed­ding uses it so beautifully!
Cup­cakes, romance and a gor­geous strappy wed­ding dress: Leanne

&

Oliver's Leeds wed­ding
Steph and Jonny's wed­ding is fab — the cal­lig­ra­phy a high­light for me "She who wears the crown" on Brides Up North
A beau­ti­ful Eng­lish coun­try­side wed­ding: Car­o­line and Alex's big day in Kent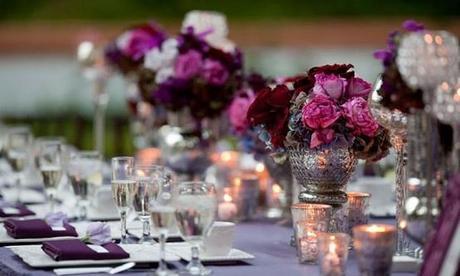 Source: loveluxeblog.com via Claire on Pin­ter­est
Think cre­ative! Hand­made prod­ucts and
DIY

 ideas
Chalk­board photo frame wed­ding table plan… an alter­na­tive to the tra­di­tional seat­ing plan and an eye catch­ing dis­play I love! On Pock­et­ful of Dreams
Gor­geous inspi­ra­tion shoot — fab­u­lous flow­ers and stun­ning sta­tionery on Mag­no­lia Rouge
Keep up with the lat­est in vin­tage wed­dings on Vin­tage Wed­ding Ideas blog
Tips on find­ing your per­sonal wed­ding style, on Love Luxe Blog. Don't know where to start? Then this is for you!
Advice and opin­ion — wed­ding discussion
Per­haps hir­ing a pro­fes­sional wed­ding pho­tog­ra­pher isn't the best solu­tion for you… but read this before you make up your mind. Pro­fes­sional wed­ding pho­tog­ra­phy — not always the best idea? Recommended!
Writ­ing guests' names in your wed­ding invi­ta­tions — the eti­quette (if you choose to fol­low it!) is more com­plex than you might think!
Some inter­est­ing thoughts on wed­ding tra­di­tions, with a con­tem­po­rary per­spec­tive. Def­i­nitely worth reading!
What is mar­riage, and is it over? Food for thought, and beau­ti­fully writ­ten by Ali­son Tinlin.
Julie Dawson's fan­tas­tic arti­cle explains that there are two peo­ple involved in a wed­ding! We know you know that, but there are wed­ding sup­pli­ers out there who need a reminder!
I loved read­ing this groom's per­spec­tive on wed­ding fears and nerves. From Under the Vin­tage Veil blog
Happy read­ing, and have a bril­liant week­end every­one! I'll be back tomor­row and Sun­day with new fea­tures on Eng­lish Wed­ding Blog so do check back if you can! Claire xx