Tanzania is one of the best countries in Africa and that is why it attracts hoards of tourists year after year. The country is situated in East Africa, it has been blesses with some of the most spectacular scenery on the planet and has something for every holiday and every interest. If you haven't been there yet it's time to start thinking about it right now!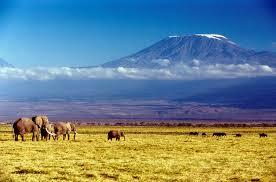 Deciding to go is the easy part, the difficult part is figuring out what it is that you will do when you get there because there is just so much to see and do! Here are my 3 things that you shouldn't miss, if you're heading to Tanzania then do at least one of them and I promise you will not be disappointed. Have you been to Tanzania before? If you have I would love to hear about your experiences and places that you think a re a 'must see', all you have to do is put your thoughts in the comment section below this post. I love to read about your travels and it's also a great way for us, as a travel community, to share ideas with others.
So here's my list of 3 TOP places not to be missed in Tanzania:
A visit to Mount Kilimanjaro
When people think of Tanzania one of the first thing that enters their mind is Mount Kilimanjaro, this iconic symbol of Tanzania is a must see for everyone! You can do do many things here, either climb the dizzy heights or marvel at it's beauty from the national park whilst you watch the wildlife roam free. It's the tallest mountain in Africa and a site that knocks everyone for six when they first lay eyes on it.
Take the dive on Mafia Island
If a place is thought to be the best diving location in Africa then you know it's going to be a knockout! You've all heard of the Spice Islands I'm sure, well, Mafia Island is probably the most stunning of them all. I think those last two sentences really tell you who amazing this place is! If you want to have a holiday in a location blessed with crystal clear water, white sandy beaches and stunning marine life then go here now!
Take a safari
Yes, you have to do it! Yes, everyone does it! But guys, there's a reason everyone does it and that is because it's one of the best experiences you will ever have! You can't go all the way to Africa and not go on a Safari, it just wouldn't be right. With the amazing national parks in Tanzania you are never short of options. If you want to see elephants, lions, rhinos and buffalos in their natural habit then book one straight away – hands down one of the best things I have ever done!