Boobs! Breasts! Knockers! Higgly jigglies!

Oh, for heavens' sake! You there, sniggering at the back. See me at the end.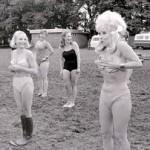 Oo-er, don't be shy! Get a sports bra.
© the Rank Organization
Seriously, though, why is everyone so shy about talking about sports bras? When I sent an email on the subject to my female clubmates – not normally known for being the quiet, retiring types – there was consternation that our menfolk were going to – *gasp* – discover our bra sizes.
Even GB kit-providers seem to be squeamish about it; sports bras are rarely included in the women's GB rowing kit (which frankly is a marketing opportunity missed).
But, look. It's an important subject – 44% of women who exercise regularly don't wear a sports bra, and they should – so if you're uncomfortable with boob-talk, you might want to look away now.
Still with me? Good.
So, why is it so important? Well, rowing might not involve impact and bouncing like running does, but it still involves moving, repetition and stretching. Breast tissue is only supported by skin and Cooper's ligaments, which are pretty fragile. Repetitive or extreme movements put strain on these ligaments and can stretch them permanently. The result? Yup, you guessed it. Saggy granny-boobs. And nothing you can do will bring them northwards again.
Importantly, contrary to popular belief, this happens to the flat-chested amongst us, too. You might not end up with boobs grazing your knees, but you'll still have what comedian Jenny Eclair once vividly described as envelope flaps. Mmmmmm, attractive.
So I think we can agree that if you're going to row hard, you should wear a sports bra (and frankly, even if you're not convinced by the science, you probably don't want to get your nice, everyday bras all sweaty anyway). The question is, which one? Well, the requirements are a bit different from runners' needs. As I said, there's not the same problem with bounce so you don't need a high level of support, but you do want plenty of "give" in the shoulder so you don't chafe.
One other thing. Even if you think you know what bra size you are, it's worth getting properly fitted. Our bodies change over time and you might find you've been wearing the wrong size without realising it.
I put the rower's requirements to a number of sports bra makers to see what they could come up with. Here are the results.
Best for looks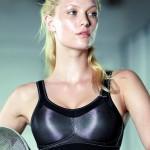 Also available in white and 'desert' ie skin colour
The Anita Active Momentum Sports Bra 5529 is undeniably fabulous. All mesh and shiny fabric, it's by far the best-looking sports bra I've seen. It's designed to provide maximum support, so if you want to wear it for running as well, you can, and it has flat seams and seamless cups to avoid chafing.
I wore this for one of the endless, long erg sessions that made up this winter's training. It doesn't come in a AA cup and even with the size that was prescribed for me when I was officially fitted, it was a little too big in the cup for me (TMI?)
It was extremely comfortable, though, and I had no chafing. If it had been a perfect fit I think it would have shot up to the top of my personal leaderboard.
Anita, incidentally, has been around for about 125 years and specialises in sports, mastectomy, maternity and large cup sizes; they also just won Post Surgery brand of the year for their mastectomy range.
The Anita Active Momentum Sports Bra 5529 is available in cups A-H, 30-46, from a variety of stores – please check on the store locator for your local stockist. RRP £49.00.
Best for the small-chested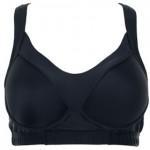 Also available in white
The Jessica Max Sports Bra top is a hand-made sports bra specifically designed for those who don't have much on top (including those who've had a mastectomy). Unusually for a sports bra, it has gel-filled cups to provide cleavage. If I'm honest, it had never occurred to me that anyone would worry about this sort of thing when they were doing sport, but I'm aware that I may well be out of step with a lot of the world. If you feel self-conscious about your flat-chestedness when you exercise then this is definitely the bra for you.
I confess I was a bit dubious about this bra when it arrived. It's quite substantial, and because of the gel pads it initially feels as though it is flattening your boobs rather than supporting them – at least that was my impression, though with a bit of wriggling and adjusting it felt much more comfortable. It's nicely made, with a mesh interior to absorb sweat and a racer back with no fastenings – you pull it on over your head, which I rather like. Good for sit-ups, too – no hooks and eyes to dig into your back.
I put it to the test in one of my biggest challenges over the winter – the dreaded 60 minute erg session. I reckoned that if it could survive that it could survive anything. I'm pleased to report that after a minute or two I really didn't notice I was wearing it. I experienced no chafing at all and it felt comfortable throughout. That, to my mind, is impressive in a long, tough, endurance session.
The only thing I would say is that it might get a bit sweaty in hotter temperatures. I was working out in a very cold shed. I haven't yet had an opportunity – more's the pity – to test it in warmer conditions.
The Jessica Max Sports Bra Top is available from Max Cleavage in a range of sizes (plenty of AA sizes) and may be made to order. From £34.99.
Best for the well-endowed

Also available in black
The Freya Active Moulded Crop Top only starts at a 34B so sadly I had to ask a couple of shipmates to try the ones sent to me and report on the results.
This sports bra is a serious bit of kit. According to the manufacturers it, "offers full coverage complete with odour management fabric and mesh panels for cool comfort". Research carried out by Portsmouth University showed that strain was reduced to 1%, pain by 97% and independent movement by 92%.
In laywoman's language, this means, as my clubmate said, "it really holds you in" and would be ideal if you wanted to wear it for circuits or running as well – in fact, one of my testers wore it for running as well as erging and said it provided good support and felt comfortable, especially as it's underwired.
Other feedback:
it's cut high enough that you can comfortably wear a heart monitor with it.
There's an extra clip which did add more support but my tester found this made it uncomfortable so left it undone.
There was general agreement that this was a good-looking bra.
One of my testers said that it chafed her a bit after she wore it for a head race; the other didn't find this, so perhaps it was just a question of fit.
This bra is £40 from Freya Lingerie.
I should also add here that Freya sent me some Capri pants to try out while I was at it (happily they did come in my size) and they got an unequivocal thumbs up. Comfortable, nice-looking and sufficiently thick to avoid showing the person in the seat behind you what colour knickers you're wearing. Not usually a problem for a bow-monkey like me, but good to know.
Best all-rounder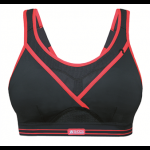 Available in a range of styles and sizes
No round-up of sports bras would be complete without mentioning the Shock Absorber range. They couldn't provide me with one specifically for review purposes, but I have a handful of Shock Absorber sports bras that have done sterling service over the years. My all-time favourite, with the fasteners at the side, was discontinued, but the others are still pretty good. The labels are too faded now to tell which models I have, but over the years they have seen me through rowing, erging, running, circuits, bootcamp, boxercise, zumba, yoga, weights, Tabata… if it's sporty, I've done it in a Shock Absorber bra.
They tick all the boxes – good support, comfortable, non-chafing – just a good, old friend that you throw on and forget about. They are maybe not the best-looking in the world – one of mine has wrinkles that won't shift and won't win any prizes for prettiness – but I still come back to it every time as it does the job.
Check out the Shock Absorber website to find the right one for you. They come in a large range of shapes, sizes, styles and prices.
So there you have it. No excuses, girls, for wearing your everyday bra for rowing. And if you're still giggling, you can write out these lines in tonight's detention.
I must wear a sports bra for rowing.
I must wear a sports bra for rowing.
I must wear a sports bra for rowing.
I must wear a sports bra for rowing.
I must wear a sports bra for rowing.