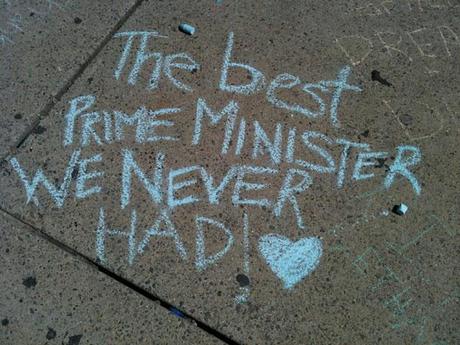 Jack Layton, leader of Canada's New Democratic Party and leader of the official opposition succumbed to cancer early Monday morning.
On May 2 he brought about an incredible victory for Canada's social-democratic party turning the 4th place party into a 2nd place one, leaping from 37 seats to 102.
Jack Layton came from a political family worthy of a Can-lit novel. Layton's great-granduncle William Steeves was a Father of (Canadian) Confederation. His great-grandfather was a blind organist who founded Montreal's Association for the Blind. Philip Layton was also the senior partner in Layton Brother's Pianos. He composed
The Dominion March
which played on the carillon during Jack's lying-in-state in Ottawa. Jack's grandfather Gilbert Layton was a cabinet member in Duplessis' Unione Nationale government, who split with the party during the Conscription crisis. Jack's own dad Robert, once a Liberal, was a Conservative cabinet minister in the 1980s.
Raised in Hudson, Quebec, his high school year book predicted he would become a politician. Jack studied Political Science at Montreal's McGill. In his early 30s, while working as a professor at Toronto's Ryerson University, "Dr" Jack Layton received his PhD in Poli-Sci  from York University.  Before he went on to become a Toronto Councillor in 1982, some of my friends had him as a prof in Social Work.
In 1985 after his 14 year marriage had dissolved, Jack Layton met the love of his life, Olivia Chow. The two have been inseparable since they first met. They both served as Councillors at Toronto's City Hall and once Jack became NDP Party Leader, Olivia struggled and won a seat as a Member of Parliament.
Jack Layton was always present at whatever demonstration I was at. Whether it was No-Nukes or Pro-Choice, Jack was always there, with his bike on one side and his girlfriend Olivia on the other. Jack and Olivia were married in 1988 on Toronto's Algonquin Island, where Olivia arrived on a balloon-festooned barge from the mainland.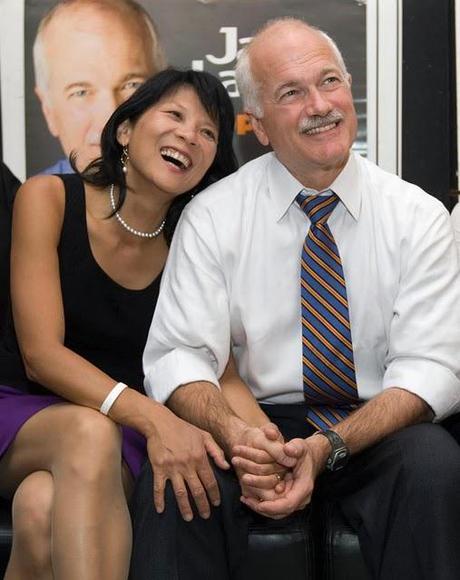 Jack Layton was always involved in social justice issues. While a Toronto Councillor Jack was one of the first advocates for the rights of AIDS patients. He founded the White Ribbon campaign,  now an international effort organized by men and boys to end violence towards women, which has spread to about 100 countries world-wide.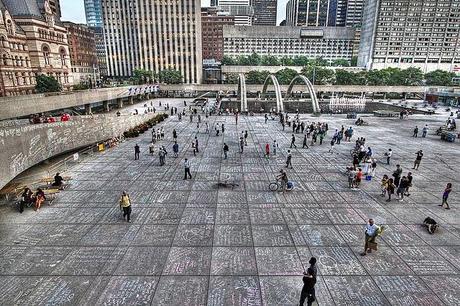 An amazing array of chalk-written tributes at Toronto's City Hall. Photo Jackman Chiu via Flickr
The Eco-friendly Layton was a huge cycling advocate and the bike lanes and bike racks around Toronto sprung up because of his activism. He was a proponent of "deep lake water cooling" and today my husband's office tower is cooled from water deep in Lake Ontario. Jack's own house is an environmental marvel - his electrical consumption meter actually goes in reverse as it gives back to the grid. Here's a Rick Mercer clip of his cool house.
Jack and Olivia and Olivia's mother lived in a 120-year old semi-detached house in downtown Toronto, where the University of Toronto meets Chinatown. I can just see their semi-detached from the streetcar as I go by. His number was in the phone book and my brother phoned their number to pass on a "Get Well Soon" message. Although he reached a recorded Olivia, stating that they spent most of their time in Ottawa these days, he was invited to leave a message.
I can't possibly remember everything that Jack Layton's done for Canada or Toronto. He was a principled man who really wanted Canada to be a better place for Canadians. He was an advocate for aboriginal issues. He lobbied for a Pride Day in Toronto and his advocacy for same-sex marriage is a feather in Canada's social equity cap. "Do unto others as you would have them to unto you"  - I think the Golden Rule was part of Jack's philosophy. He showed us that Canadians could be a community of equals.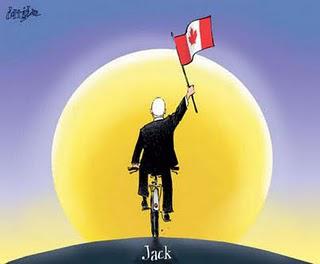 Keep on Rockin' in the Free World, Jack.