Hey Friends!
I find it very interesting how as the years progress, the kitchen has become more and more the CENTER OF THE HOME!  Just think about the 1930's, kitchens were placed at the opposite end of the house as the dining area.  Even as recently as the 1970's early 80's the kitchen design was still kept in its separate walled off location with possibly only a pass through window.
Today, kitchens are completely open and are located in the heart of the home.  It really is the most lived in space nowadays.  I wonder if it will ever go back to the closed off designs......I'm guessing it won't :-)
I've never seen a kitchen like the one below but I am REALLY liking it!  It seems like a fantastic use of space.  I am also loving the soft muted blue against the dark wood and then the white cabinets behind.
What do YOU think?!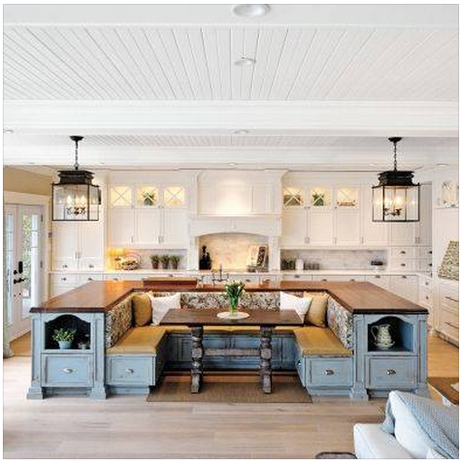 Once again we see a very MUTED color against a white cabinet set up.  I REALLY like how much character that piece brings into the kitchen.  I suppose I love anything that looks a bit weathered and old and resembles a barn :-)  My grandparents had a farm so I had many fun years playing in the haystacks!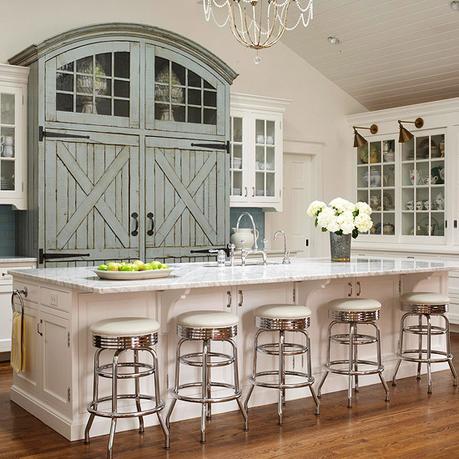 I've always enjoyed this space saving kitchen eating design.  It seems quite practical.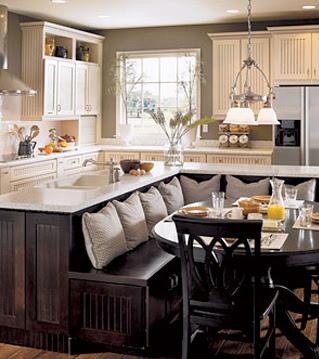 I'm not quite sure what to think of this next kitchen.  I find it very unique though and it takes the "lounging around in the kitchen" to a new dimension :-)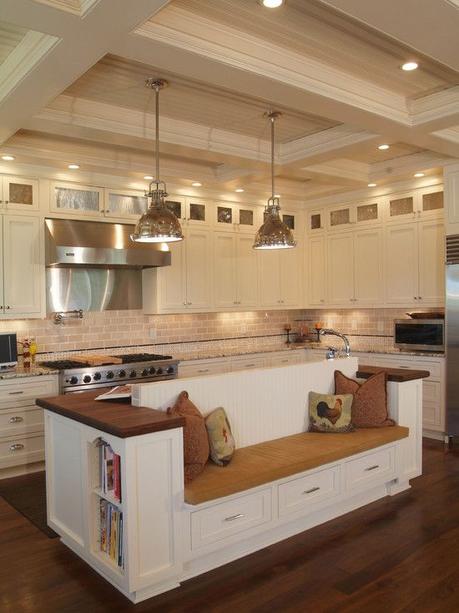 I have to giggle a bit that they incorporated a LADDER into their kitchen design.  Why wouldn't they enjoy jumping up on their counter like I do to reach those high cupboards? hee,hee.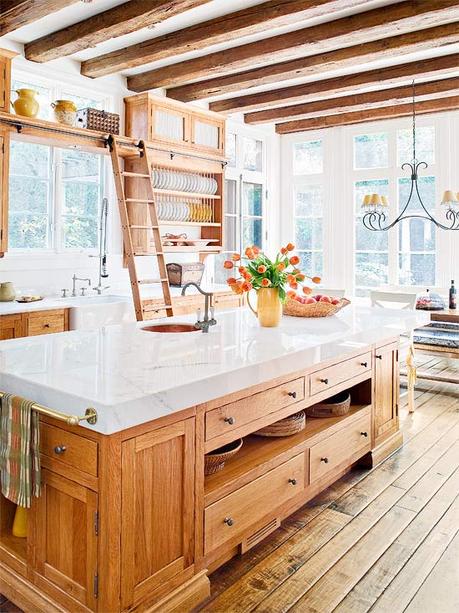 BHG

What do you think of this combined island/breakfast table?  Pretty smart - huh.  Oh and hey, they used that muted green/blue color again! (Guess it's the trend right now) :-)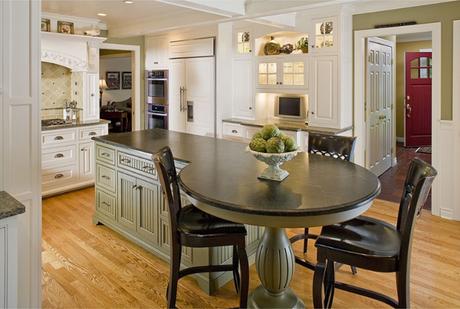 Have a GREAT weekend my friends!  
I hope I've inspired some new kitchen ideas and designs!
Let me know what you think :-)
 Don't miss out on Selina's home decor tips and inspirations - Sign up to receive her once a week post :-)
Enter your email address:
Delivered by
FeedBurner
If you enjoyed this post, you can click the blue SHARE TO FACEBOOK button below :-) I'd appreciate it! You can also head over to WWW.CREATIVEJUICESDECOR.COM and sit back, relax, grab your cup of coffee and check out my other DESIGNER SECRETS and FUN CRAFTS on my blog. (Thanks my friends!)