The Best Of:
Haute Couture Fall 2012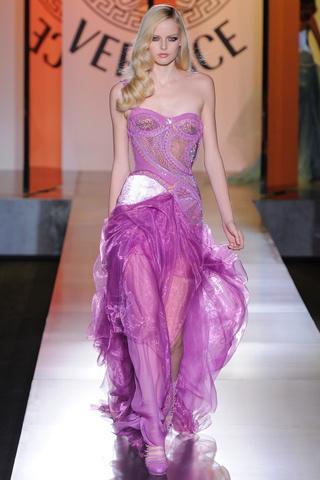 Versace Haute Couture Fall 2012
When I first began to think about the Haute Couture collections for Fall 2012, I thought "do I write about each in turn? or do I just group them together and do a sort of, 'Best Of' post?", well as you may have realised by now, I opted for the latter. Pinterest proved itself as my main source for images today (until the day I'm personally invited to the shows! *wink*), as it is quick, easy and has every fashion source available these days - Vogue, Nina Garcia, Harper's Bazaar, WWD etc - all under one tab. Also, I then realised that the Elie Saab show wasn't to be found at Vogue, so I'm glad I opted to use Pinterest in the first place.
The elite few members of the Haute Couture club will have a rather dashing choice of attire this Fall, as the collections from Dior, Elie Saab, Chanel, Iris Van Herpen, Giambattista Valli, Versace, Valentino, Maison Martin Margiela, Jean Paul Gaultier and Givenchy are all beyond fabulous. Ok, so maybe there were one or two collections which I felt didn't really, entice me, shall we say. For me, when it comes to Couture, I want it to look and feel Avante-Garde. Costume-like, if you will. Fair enough, some say that fashion designers should make collections that are wearable and can relate to every day working life, however, with Couture, I see it as more of a 'look and don't touch' scenario. If you want something wearable, go for the RTW and Resort shows. Couture comes from only a handful of select designers. It should be different to anything we've seen from their RTW collections - almost like it should be displayed in a glass cabinet in a museum, or at the very least, worn to some elaborate Venetian masquerade ball. Anyway, that's enough of my view on Haute Couture. Let's get back to the shows: After looking at each collection in detail, I have come up with my top three. First up we have the gorgeous and colourful collection by Versace. When you think back to Versace's SS'12 Couture collection, you just think "wow" (then start to swoon) so you might think that it could be difficult for Donatella to top what she gave us at the beginning of the year. Well, I didn't think it was possible, but when you look at the Fall collection, you almost start to forget what that SS collection even looked like. For Fall 2012, Versace gives us colour: shades of purple (a huge trend featured in the Fall RTW shows in February), blue, green, pink, yellow. It's a magical array of color that is bound to help clear away any shadows that Autumn/Winter may bestow upon us. One main feature in the collection - as with many of Versace's recent designs - is the structured corset, with panel detailing that hugs the feminine silhouette in all the right places. It is absolutely beautifully designed, and a treat to lay your eyes upon. The entire Fall collection is beautifully intimidating to look at: actually, the three images below look like a modern day take on the costumes for the three fairies in Sleeping Beauty, don't you think? If I owned a piece of Versace couture, I don't think I would ever take it of!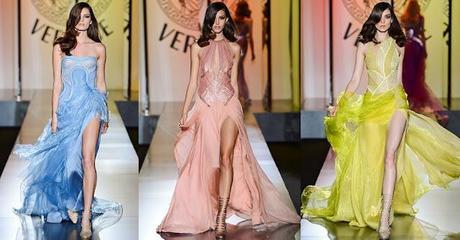 Next up we have the amazing Jean Paul Gaultier. What can I say about the fall couture collection? Well, for starters, it gave me what I wanted to see in a Couture show: exactly that - a show. It was theatrical, comical and generally amazing. To me, it seemed like a mix of Alice's Through The Looking Glass and 1920's Gatsby/Fitzgerald. I don't know what I enjoyed more, the elaborate collection, or the fact that JPC took his bow with a black and white zigzag turban on.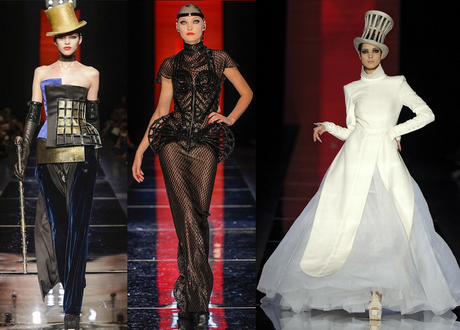 Last up is none other than Elie Saab. As you may already know, Mr Saab is my favorite designer. His shows inspired me to pursue a career in fashion and I will always love his collections. For his Fall Couture line though I felt that the collection - although undoubtedly awe-inspiring - gave me a dose of déjà vu. I was looking at the collection images thinking "Did he not do something similar in his AW'12 RTW collection?" 

Either way, I can't deny that the collection had me in tears over the fact that I may perhaps never own a piece - it is simply stunning as always.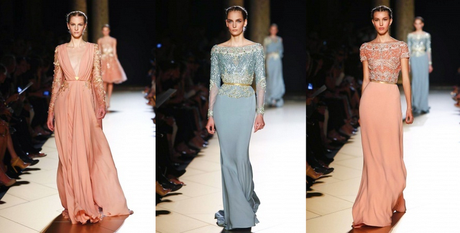 CLICK TO SEE MORE IMAGES FROM THE FALL 2012 COUTURE SHOW!
What are your thoughts on the above Couture shows? Which was your favorite (mentioned or not)?