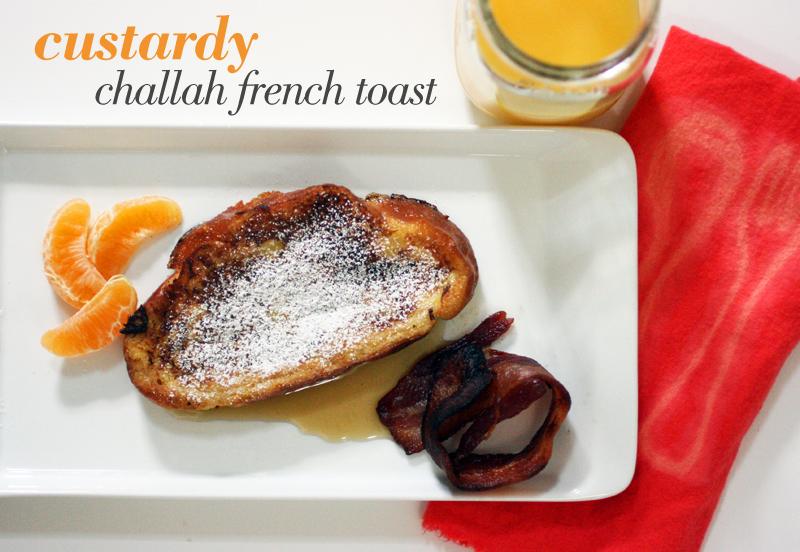 Brunch is hands down my favorite meal. I used to have this 'thing' for french toast, where I'd have to order it if it was on the menu. The best I've had was at this hole-in-the-wall in Providence, called Kitchen. Their sweet bread french toast literally melted in my mouth. mmm.
The second best french toast I've had was made at home. My friend Tina introduced me to Ina Garten's challah french toast recipe. It's divine. The bread is delicate and custardy, and has a hint of orange flavor (you zest orange peel into the batter).
I'd forgotten about the recipe until recently, when Jeff made it for brunch. And yes, as I sit here and type, I am craving some. I like eating mine with a crunchy piece of bacon on top and drenched in syrup.
Try this recipe for yourself sometime! And save me a piece while you're at it!
Challah French Bread
recipe from The Barefoot Contessa
makes 8 large slices
Ingredients
6 extra-large eggs
1 1/2 cups half-and-half or milk
1 teaspoon grated orange zest
1/2 teaspoon pure vanilla extract
1 tablespoon good honey
1/2 teaspoon kosher salt
1 large loaf challah or brioche bread
Unsalted butter
Vegetable oil
To serve:
Pure maple syrup
Good raspberry preserves (optional)
Sifted confectioners' sugar (optional)
Steps
1. Preheat the oven to 250 degrees F.
2. In a large shallow bowl, whisk together the eggs, half-and-half, orange zest, vanilla, honey, and salt. Slice the challah in 3/4-inch thick slices. Soak as many slices in the egg mixture as possible for 5 minutes, turning once.
3. Heat 1 tablespoon butter and 1 tablespoon oil in a very large saute pan over medium heat. Add the soaked bread and cook for 2 to 3 minutes on each side, until nicely browned. Place the cooked French toast on a sheet pan and keep it warm in the oven. Fry the remaining soaked bread slices, adding butter and oil as needed, until it's all cooked. Serve hot with maple syrup, raspberry preserves, and/or confectioners' sugar.