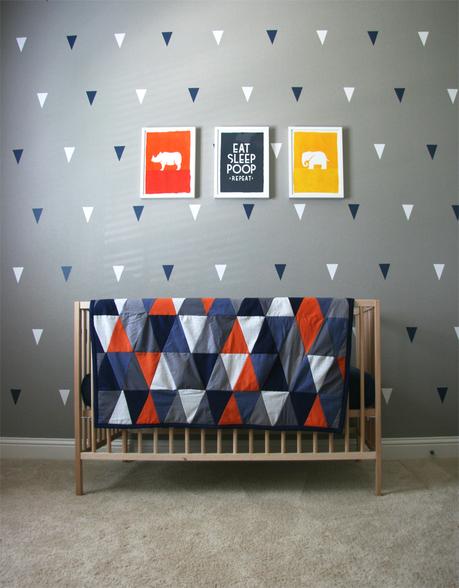 I'm hitting my 40-week mark this week, and am finally understanding what people mean when they ask, "Are you in the nesting phase?" For some reason, both Jeff and I thought nesting meant you holed up at home on the couch and watched season after season of TV shows on Netflix. Boy were we wrong. I think I'm on the tail end of my frenzy, but these past few weeks I've been running around getting what I think we'll need, and setting up the baby's room.
I thought I'd share some pictures of the nursery so far. We are still trying to figure out the best way to store things like wipes and diapers and clothes, but it's pretty much done.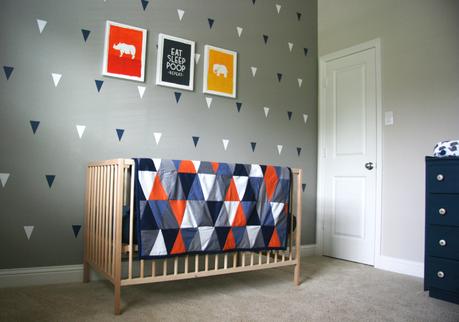 I wanted the nursery to be fun and modern, and picked gray, navy, orange and yellow for colors. We painted one wall grey, and then added the multi-colored triangles. I'd been eying the triangle wall decals from Mur, and thought I could create my own for less money using ConTact paper, but apparently they don't make any in navy. So I compromised by buying the blue ones from Mur, and making the white ones from ConTact paper. I'll be honest – they were a pain to hang up, especially since I'm particular about spacing and alignment. I think it took me a good 4 hours just to put up the triangles. At least I'm happy with how it turned out!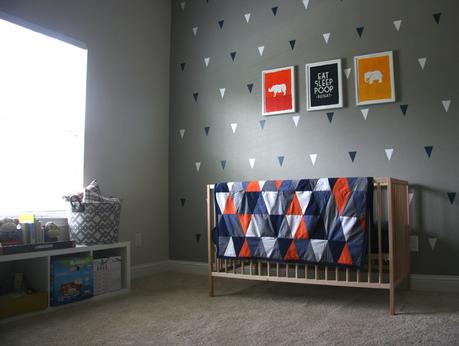 I made the wall artwork using acrylic paint and linen art paper, and hung them in white frames from Ikea. For anyone interested, I'll share a tutorial on how I did these soon. And the finishing touch that ties this side of the room all together is the awesome quilt my friend Natalie made.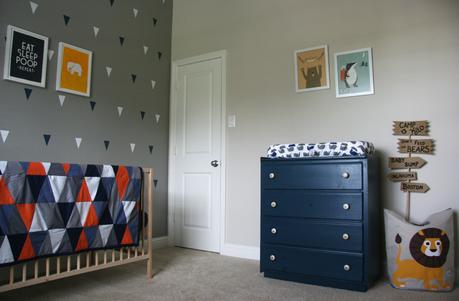 For a changing table, we're using a bureau that my dad when I was a kid. This bureau used to sit in the corner of my parents bedroom in Massachusetts (back then it was white with natural trim, but we painted it blue 7 or 8 years ago). When I moved to Dallas, I took it with me. So it's kind of neat that we're using it for the baby. And it just so happens to match!
My friend Thuy made us the bear and skunk animal prints – they are from a cute book she found at Half Price Books. I love how they feel like handmade artwork. We're also repurposing a couple decorative pieces from our baby shower, which go along nicely with the animal prints.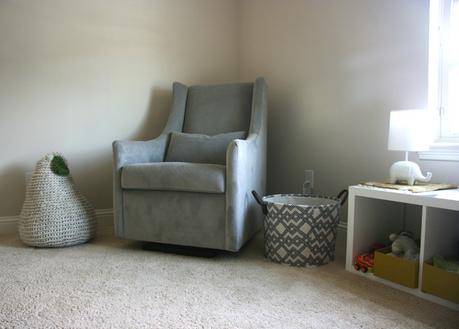 Lastly, we have a corner of the room that's pretty blank right now, but the plan is to populate it with pictures of us and the baby once he's born.
I'm starting to really like this room. My one gripe, though? That the teepee my friend Nat and I made doesn't fit! What a first world problem. I think that once the baby gets older, we will move the glider and put the teepee in its place. (And for anyone who's wondering about the teepee, I'll post about that DIY soon!)