You may think that a rash statement, but try it and see!
By far and away the best baking book I've ever purchased was 'The Hummingbird Bakery Cookbook'. Everything mixes up like a dream and tastes delicious. I hope they don't mind me sharing their carrot cake recipe – it's a real conversation piece…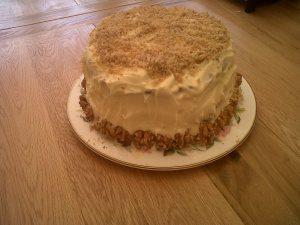 The best carrot cake in the world
You'll need:
300g soft light brown sugar
3 eggs
300 ml sunflower oil
300g plain flour
1 teaspoon bicarbonate of soda
1 teaspoon baking powder
1 teaspoon ground cinnamon
1/2 teaspoon ground ginger
1/2 teaspoon salt
1/4 teaspoon vanilla extract
300 g grated carrots
100g shelled walnuts, chopped, plus extra: chopped and whole to decorate
Preheat oven to 170 degrees (gas mark 3)
Put sugar, eggs and oil in a mixer and beat until well incorporated. Slowly add the flour, bicarbonate of soda, baking powder, cinnamon, ginger, salt and vanilla extract and beat until well mixed.
Stir in grated carrots and walnuts by hand
Pour mixture into three 20cm greased cake tins and bake for 20 to 25 minutues (or until golden brown and spong bounces back when touched). Leave the cakes to cool slightly in the tins before turning out onto a wire cooling rack to cool completely.
When the cakes are cold, you'll need cream cheese frosting:
600g sifted icing sugar
100g unsalted butter at room temperature
250 cream cheese, cold
Beat together the icing sugar and butter on a medium/slow speed until the mixture comes together and is well mixed. Add the cream cheese in one go and beat until well incorporated. Mix on medium/high for at least 5 minutes until light and fluffy. Don't overmix as it can quickly become runny.
Put one of the cakes on a stand and spread 1/4 of the frosting over it with a palette knife. Place a second cake on top and spread another 1/4 of the frosting over it. Top with the last cake and spread the remaining frosting over the top and sides. Decorate with walnuts and a light sprinkling of cinnamon.
This recipe can also be adapted to make fabulous cup cakes. Just keep your eye on them while they are cooking as they won't need quite so long in the oven.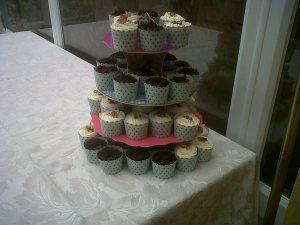 Same ingredients... different cakes