Remote desktop programs serve a multitude of purposes. From secure file transfers on the go to remote assistance and tech support applications, these versatile programs are used on commercial and personal levels. There are several different remote access options to choose from, depending on your needs and your budget. Industry veteran, Remote Utilities, has recently released a free version of their software that many home users are finding quite beneficial.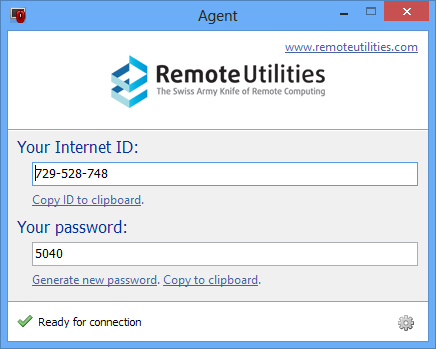 Full Remote Access and Control
The biggest advantage of a remote desktop program is the ability to quickly and securely gain complete access to any other machine within the network. With Remote Utilities, users can execute files, install and run applications, control the cursor, access the command line, and even view multiple monitors from the viewer. For a free program, the remote access feature set is rather robust. More tech type options, such as remote registry edit and screen record, will require the paid version of the software however.
Versatile Communication Tools
In addition to allowing a user to remotely gain control over another device, a good remote desktop program also gives users a choice of integrated communication tools. Remote Utilities offers users three options that are useful for many different applications. A simple text popup message is the perfect way to let someone know that an update is underway, while text chat mode is ideal for two-way communication. This option is similar to a standard instant messenger but doesn't require any outside applications. Voice and video chat is also supported using the included remote webcam.
Fast and Easy to Use
When it comes to speed, Remote Utilities excels. With very little lag time and a handy low-bandwidth mode for less desirable conditions, this is one of the fastest remote desktop programs on the market. It is also simple enough for the average home user to operate. The integrated remote installation feature lets users seamlessly install or update the Remote Utilities host package from the viewer. The software also includes the ability to modify the installer package across your network and a portable version for easy access from anywhere, even the coffee shop.
Is Remote Utilities Secure?
Security is a big deal when it comes to remote desktop programs. Both versions of Remote Utilities include a powerful collection of security tools, although the paid Enterprise version does have a few extras, such as the ask user permission option which is great for remote assistance applications. Both versions support direct IP connections, as well as the ability to bypass a firewall using an ID and password. Proxy support and callback connection are also featured in both versions and all data transfers are always encrypted for added security.
Individuals who are looking for a good remote desktop program to manage their home network may find exactly what they need with Remote Utilities free version. The program has a few downfalls, with the lack of support for any operating system besides Windows being the biggest, but overall, Remote Utilities offers a powerful solution for remote access applications at a price that can't be beat.