So, this is were it all begins...
Before we start we thought we should explain who we are and why we are here... We came up with the
Two Cherries
name because there are two of us who will write this blog. (i.e. like two cherries)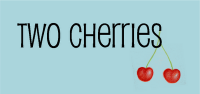 We will be talking about

 

fashion

,

style

and

beauty

. Finding new trends, trying out beauty products and reviewing them. 
Hope you enjoy :)
Love, cherries