I'm in my hotel room in Prague, and I've been in this city for almost a week. My earliest hours here were unbelievable – and I don't think in the way anyone expected. I haven't actually told anyone at home in the USA what exactly happened, although hints were dropped on Twitter.

We landed in Prague just after noon on Sunday, August 4, following flights from Cleveland, Newark and Brussels that had started early Saturday afternoon. It was nearly 20 hours of traveling, including adjusting to the six-hour time difference in the Czech Republic. By the time we were in Prague, most of us were ready for a nap and a shower. We were rewarded for our long travels with a beautiful, hot, sunny Prague Sunday.
Some of us napped, most of us showered; we were all ready to begin exploring the city late in the afternoon. There aren't enough words to describe how beautiful the afternoon was, with no clouds in the sky and the sun beaming down. Our first steps as explorers took us across the renowned Charles Bridge and into Old Town. We breezed, as a group, through tourists speaking every language; past street performers and jewelry merchants; around caricature artists and painters. The only concern, as we made our way into Old Town Square, was the possible sunburn.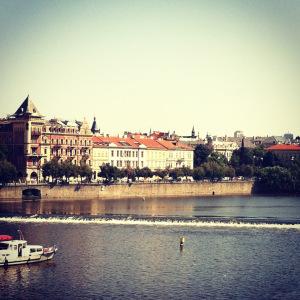 First views of Prague from the Charles Bridge.
We watched the astronomical clock as it announced 4 PM, with death ringing the bells and the apostles shuffling through. We took pictures throughout the square, even glimpsing down what is known as Prague's most expensive street (home to retailers including Gucci, Cartier, Tiffany and Dolce & Gabbana). Finally, we made our way to a rooftop terrace for our first meal in Prague.
It was all as picture perfect as it sounds, until the storm clouds started forming.
It was weird to watch the clouds form, especially since we were so high up. The clouds got darker and darker, and they moved faster and faster. The impending storm was obviously unavoidable; we were a good distance from our hotel, and with such a large group we knew walking was the easier option. By the time the meal ended, the rain had started.
Being from Ohio, I'm used to summer storms. I know that if you have a hot, sunny day, there's the chance that there will be enough instability to let a storm form. It wasn't surprising that Prague's weather was just like Ohio's (in fact, plenty of people had warned our class that this was the norm). Yes, the quickness of it all caught us a little off guard, but a storm overall is something we all know about.
What was different, though, was the attitude of everyone involved – including me. No one fretted. When I'm at home in northeast Ohio, I tend to be shy and kind of quiet. I don't cause trouble, and I don't go out of my way to get an adrenaline rush (I just watch a lot of scary movies). I don't do roller coasters, and I rarely do waterslides. I tend to keep to myself. When it started raining in Prague, though, I just embraced it – as did the rest of my class.
None of us cared about getting wet or running through the streets in the rain. Concern about looks flew out the window; clothes were drenched and a second-rate concern. Yes, it became kind of chilly, but we huddled together in the worst parts of the storm and didn't worry about it. When our group of 14 was caught under a bridge as the wind picked up, we took pictures, and no one complained. There was an acceptance that we would get through the storm, and we were lucky to be experiencing it in such a beautiful city.
Even in the scariest moments, no one panicked. While we waited under the bridge, one of our hosts went to see if there was a place nearby where we could duck in and hide. As she headed back toward our spot under the bridge, the wind picked up enough that windows from the buildings above us began blowing out. The first window to go was the one right above her head, and the glass came crashing down onto her back. The whole thing lasted a matter of seconds, but it happened in slow motion and silenced all of us. After the initial shock, and the sound of more windows breaking around us, our host made it under the bridge where we all gathered around her.
Like I said, I'm not an adrenaline hound by any stretch. When I'm at home, I'm typically reserved. Most people enjoy telling me how chill I am – and I appreciate that. But something happens when I'm in a foreign country that makes all of that shyness disappear.
When I was in the West Indies a few weeks ago, I jumped off the side of a boat into the Caribbean Sea. Again, I won't even jump off of the higher diving board at my local pool in Ohio. But when in the West Indies, yes, I'll jump into a sea that's over 5,000 feet deep. When I was in London in the spring, my fear of heights would not stop me from riding the London Eye twice – once in the middle of the day and once at night. I looked out over London and loved it. The same thing happened in Paris, as we took the elevator up the Eiffel Tower and looked out over Paris at night. Even in Prague, I had no reservations about dancing right behind the DJ in a music club where everyone could see me.
Maybe it's knowing that these are sights you have to see or experiences you have to have; maybe it's a feeling of comfort that exists in these places that doesn't in the United States. Something changes when you're away that's hard to explain.
After the broken glass, we found a restaurant to hide in for some of the storm. Most of us just wanted to get back to the hotel, though, and that's how I ended up running across the Charles Bridge barefoot in a downpour. Is running barefoot on a huge public bridge dangerous? Yes. Was it an enthralling experience? Absolutely. I wouldn't change anything about that first night in Prague, dangerous though it probably was at times. As another girl in my class yelled while running across the bridge, it was liberating.