At long last, Ben has found the love of his life! Well, two of them, but Lauren B. was more love of his life-y, as he explained to JoJo in so many words.
And can we TALK ABOUT JOJO?! If you follow me on Twitter, and you should, if only for hearing my profound take on each season of The Bachelor franchise, you know my thoughts about this. When it was "announced" Caila Quinn would be the next Bachelorette, I was outraged. The only place Caila belongs is in sponsored Youtube videos detailing step by step exactly what we all need to do, short of genetic manipulation, to get hair like hers. And her job in software sales, should she so choose.
From the outset, Caila read as calculated. No one is that happy all the time. Not Elle Woods, not Minnie Mouse, not even Tenley. Her nonsensical ramblings in fully formed sentences that ended in romantic overstatements were a producer's dream. She was there to play the game. She was there to become the next Bachelorette. She was there to eventually secure a deal with Pantene and write a best-selling haircare book that launched a lifestyle brand. Such artifice should not be rewarded.
So when only Us Weekly still had the Caila-as-Bachelorette story weeks later, I held out hope. For the Bachelorette we all want. Need. Deserve. And last night, Jojo finally became the next Bachelorette, a role she was literally born to play considering her family's penchant for reality dating shows and drinking champagne straight from the bottle.
But that's not why we're here today. Last night also confirmed what Bachelor Nation has known since Ben first laid heart eye emoji on Lauren. She won his heart and a Neil Lane ring in what was the most adorable proposal in recent memory. Let's talk about the rock.
"The center stone is a square-cut diamond surrounded by a halo of tiny diamonds. The total number of carats is 4.6. It's set in platinum and was hand-crafted and designed by Neil Lane. The estimated price is $95,000. It's a vintage look that reflects Ben's old-fashioned values."
Old-fashioned values? Like 3 women in one week in the Fantasy Suite? Ahem. We'll move past that to focus on the happy ending. And the rock. The square cut appears to be a radiant rather than princess because it is elongated. The halo is actually beautiful and tasteful, with an inset shared prong style similar to this.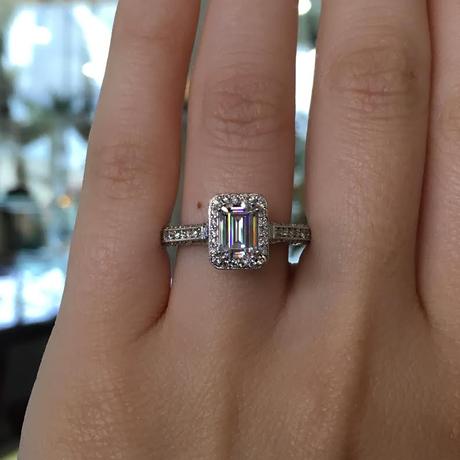 That 4.6 carat weight is a ctw., so by scoping out the generous double side stones (emerald baguettes) and the graduated round brilliants that trail down the ring's shanks, we're talking at least 2 carats in accent diamonds alone. Which gets us in the neighborhood of 2-2.5 carats for the center stone.
Can we talk about #TheBachelor winner's $95,000 engagement ring from Ben Higgins? https://t.co/BTjzx878Ad pic.twitter.com/eqLLxac60e

— E! Online TV Scoop (@eonlineTV) March 15, 2016
The ring is definitely a fun twist on antique design elements, and I actually don't hate it (sorry, I am just not a Neil Lane fan! Beautiful to some, just not my taste.) It suits Lolo, and I really, really hope it works out for these two crazy kids.
But I'm already looking forward to JoJo's season.