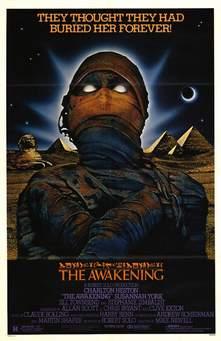 Charlton Heston turned down the role of Robert Thorn in The Omen (1976). He was no stranger to sci-fi and horror, with the Naked Jungle in 1954 and then in the 1960s and 1970s, Planet of the Apes, the Omega Man, Soylent Green, Earthquake and the fact that the role went to Gregory Peck and then the film became a roaring success must have made Charlton fire his prize pistol in the air in anger at making such a mistake. So he decided to capture lightning in a bottle, and duly was born this baby.
An adaptation of Bram Stoker's The Jewel of Seven Stars, previously adapted in 1971 by Hammer as Blood from the Mummy's Tomb, this version moves it like Hammer to modern-day Londn, but it gives it a big Omen-type rescaping. Heston is wobbly-accented British archaeologist Matt Corbeck, who in 1962  (though 1970s cars are seen) finds the tomb of mysterious, barely known to exist Queen Kara with his mistress/assistant Susannah York while his wife, Jill Townsend is pregnant with baby Margaret, looked after by curiously un-Egyptian Miriam Margolyes. They find the tomb, but an Arab assistant is hung and the pregnancy is rough. 18 Years later, Queen Kara's tomb's glass breaks. And Margaret (Stephanie "silly-named bit of eye candy off Remington Steele" Zimbalist) is coming home for her eighteenth birthday to see Dad who now due to an attempt to make him older (having tried to make him look younger miserably), now looks like Rolf Harris. And Mags now has hair like an Egyptian.
It is a fairly anaemic British horror, from that post-Omen/post-Hammer closure bust, of Norman J Warren, of ITC, of Little Hitlers and Richard Burton - Horror Star. Director Mike Newell, later attempting to drive British film into an early grave with Four Weddings and A Funeral (1994) and then directed by the fourth Harry Potter. Nadim Sawalha, British film and TV's go-to-Middle Eastern person appears as Heston's sidekick, Ian "Emperor Palpatine off Star Wars" MacDiarmid plays a cardigan-wearing psychologist who gets stabbed by Zimbalist, and the romantic male juvenile lead is Patrick Drury, whose battles with his would-be girlfriend would be rivalled by his role as much-abused/much-abusing husband John O'Leary in Father Ted. There are only a few unmemorable Omen-style death scenes, and even Sawalha is left unscathed. There's nice cinematography by Jack Cardiff, echoing his work on 1978's Death On The Nile, as this film boosts genuine location filming in Egypt, unlike many Mummy films, but he would have been a better director, having done the insane The Mutations (1974).
The ending, whilst close to Stoker seems to have been used to inject a post-Omen negative ending/sequel hook. "You evil bitch!".
In my opinion, it should have had Sawalha and Margolyes as victim, Sawalha disfigured by hot toast coming out of a toaster too fast and Margolyes' fat frame smashed in by a wobbly incubator. Perhaps, they were saving for the sequel.
I've also been watching Killer's Moon (1978) Alan Birkinshaw and his sister Fay Weldon's schoolgirl choir versus middle-aged Droog/mental patients who believe they're in a dream. With men shagging cross-dressing corpses in the belief it is their mother, singing, singing, US reality TV star Lisa Van der Pump and Hilda "Nana Moon in Eastenders" Braid, Linda Hayden's sometime lookalike sister Jane now less like her (sis was in the much bigger British horror The Boys From Brazil), a three-legged dog and a bizarre song by the bloke who sang the theme tune to "Goodnight, Sweetheart", Val Doonican backing singer Nick Curtis.