I'm proficient in most arts; I can dance, I can sing (sort of), I can even paint a lovely picture. But when it comes to the art of haggling, I'm at a loss.  You need not fear of offending me by saying that I'm "totally rubbish", because I am and I know it.  I'll have my money in your pocket before you even tell me the price; when I want something, I want it pretty much straight away. 
My beady eyes, despite their modest size and slight short-sightedness, can spot a shiny trinket from a mile off and I've been known to say "yes" to the first price in many instances.  But in Marrakech, you'd be a fool if you didn't aim for 50% off every item. 
Let me kick off my Art of Haggling series with a nice little post about shopping and haggling in Morocco's famous city – here's how you should go about haggling in Marrakech.
How to Haggle in Marrakech, Morocco
Souks fill the streets of Marrakech with some of the prettiest things in the world, but Moroccan stall owners may not have anything quite as pretty to say to you.  Maybe they just don't have a way with words, but you can expect some interesting comments, especially if you are a traveling with a group of young females (or if you are American, British, French or Oriental).  The key to surviving a shopping trip without too much offense is to keep a sense of humor about you.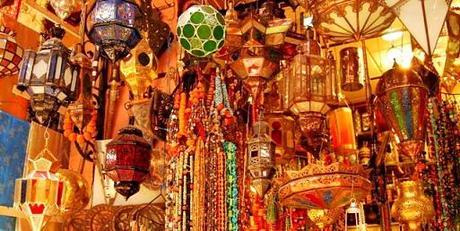 Moroccan salesmen see tourists coming in and browsing through their goods, day in, day out, so they like to think that they're pretty good at spotting different nationalities.  If you're British, they may try and get your attention by shouting "lovely jubbly" or "fish and chips", and if you are darker skinned or of Chinese origin like me, they may holler "Charlie's Angels" or even "Shakira" (don't ask), but don't be phased by what could be deemed as potentially rude. 
Keep your wits about you and try in drop in a few Arabic words or juggle a few different languages with your travel companions to show the stall owner that you know what you're talking about.  Get off on the right foot and you could gain full control of the bartering.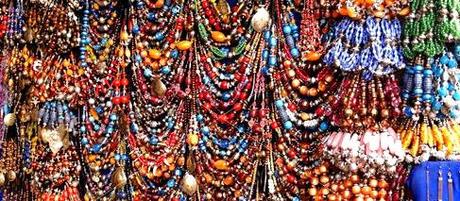 Tips:
1. Know the average price of the item by looking around otherwise you could get tricked into paying higher than the odds!
2. Whatever price he starts with, aim for at least 50% off, or if you're really up for the challenge, between 60-70% off.
3. If you're confident about starting the bartering game, name your price first but always name lower than what you're willing to pay – because there's no doubt that he'll go up. 
4. Always smile – charm does get you everywhere and if you want to seem friendly and genuine, make sure you smile when haggling in Marrakech.  This isn't a war, but simply a business negotiation so your warmth will pay off.
5. Don't be fooled by the customary comments such as "this is wholesale price" or "I'm selling at a loss", and don't let animated expressions of disbelief put you off either.  It's all a part of their theatrical strategy. 
6. Don't be afraid to ask about prices but never enter into a haggling match unless you have an intention of buying the item.  Moroccan stall owners may find it extremely rude if you waste their time bartering to your desired price only to walk away. 
7. Brush up on your French as most stall owners may speak French rather than English. 
8. Hide your money!  Pretend you're leaving the next day and tell the stall owner that you only have a bit of money left.  If they want your business bad enough, this usually works in the end.  
Staying Safe in Marrakech
Morocco may be a complete culture shock if you've never visited the Arabic nation before.  And the red city can be a crazy maze of people, pretty charms and trinkets, and pickpockets.  Like any busy city market, it's important to keep your wallet close to your chest so always bring a secure bag or rucksack and don't leave money hanging out or your pockets.  You'd be surprised that the main culprit isn't always the little kid who seems a little close for comfort, but perhaps the old woman begging in the souks?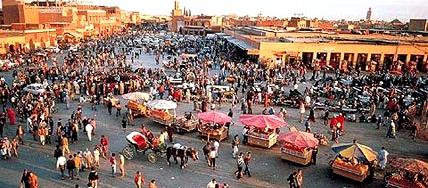 But maybe the biggest danger is the possibility of getting scammed when shopping and haggling in Marrakech; snake charmers will be pulling money out of your hand if you stop and watch their snake baskets a little too intently, and the monkey tamers will help you take pictures of their monkeys before demanding 300 Dirham (£30) for the pleasure.
Shopping and haggling in Marrakech can be fun and rewarding, but learn to say no to swindlers and keep a cool head. 
Happy haggling and enjoy the rest of Morocco! x