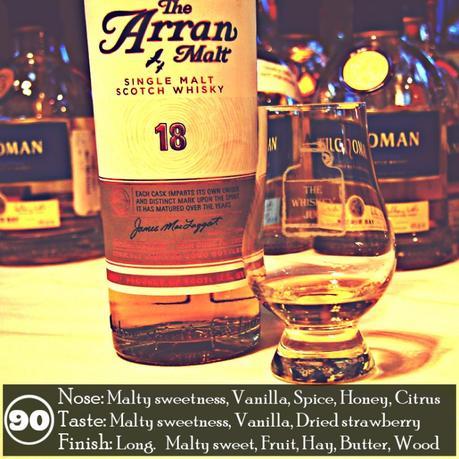 The Arran 18 Year Old is finally here! Well, it's been out since mid March when I got to taste it, but now that Ardbeg April is over I have the bandwidth to post about it and some of the other good stuff that I've had waiting in the wings since I got back from the George Dickel Distillery in late March.
Arran 18 is aged solely in "the finest Sherry casks" and is number 3 in the yearly special edition release celebrating the life of this young, 20 year old, distillery. The 16 and 17 years came before it and I've been able to try the 16 (review coming), but not the 17 so I won't be able to tell you how it's progressing in a linear fashion. But, what I can tell you right now is that The Arran is putting out some tasty whisky and that definitely includes this latest 18 year release.
The Arran 18 Info
Region: Island, Scotland (Isle of Arran)
Distiller: The Arran
Mashbill: 100% Malted Barley
Cask: ex-Sherry
ABV: 46%
Age: 18 years
Natural Color
Non-Chill Filtered
Batch: One of only 9,000 bottles
Price: $110
The Arran 18 Review
EYE
Golden apple juice
NOSE
Rich malty sweetness with notes of vanilla, spice, honey, citrus and caramel. There is a grassy hay-like note in the background along with some hints of butter, smarties and a dark fruitiness. I know it's all aged in ex-sherry casks, but it doesn't smell (or look) heavily sherried so I'm guessing it's all refill sherry.
PALATE
Malty sweetness and vanilla again start things out along with notes of dried strawberries and citrus. Some lighter notes of dark sweets like caramel and brown sugar show up along with a touch of wood towards the end.
FINISH
Long, sweetly malty and fruity accompanied by notes of hay, butter and wood.
BALANCE, BODY & FEEL
Nicely balanced with a round body and a slick buttery texture.
OVERALL
The Arran 18 is pretty darn good… heck I'd even say it's great. The warm sweet malt driven nose transitions nicely to a fruitier palate and heartier finish. It's nice all throughout and is a great addition to their annual releases; celebrating another year of whisky making. They've only been around for 2 decades, which is blip in time compared to most Scotch distilleries, but they obviously know what they're doing. So here's to another 20. Cheers!
SCORE: 90/100 (range given since it was not tasted at home)