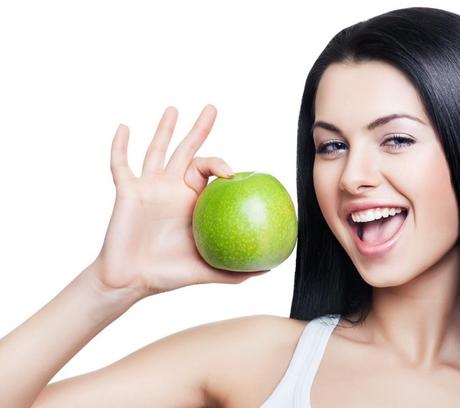 No matter what way you prefer; slicing them in your salad or pampering your skin with their nutrients; apple can undoubtedly help you get achieve the ever wanting shine and glow on your skin. Rich source of Vitamin C; it is a vital element for your hair and skin. Production of the skin's cell is paced by the Vitamin C making you gain the luster, radiance, stronger nails and hair. Apple also constitute of the B Vitamins; B5 and B9 which are proven sources to combat the skin irritation and the acne. So why not check upon the beauty secrets of the apples?
Eye Cream- Give a radiant finish to the fine line and also make your under eyes brighten up with the apple extracts that boosts the collagen. Eye Cream with apple extracts, which you can buy generally at a price of $32, will benefit you to make a show even without the use of any type of the concealer.
Get Glowing- Tarte Smooth Operator Amazonian Clay Illuminating Serum which costs for $32, plays the roles of the entire urbanized make up elements. No matter what you have on your mind; make primer that is indeed illuminating or a concealer for your dark circles; or even a tinted moisturizer that is light reflective; this cream is the one alternative for all these products. The serum being fully loaded with the rich apple anti oxidant extracts, help you achieve the never like before glowing skin.
Face Wash- Desert Essence Gentle Nourishing Organic Cleanser costing around $14 helps you get rid of your make up gently in just one rinse. You can be completely carefree about the problems of eye irritation of skin stinging. This product, packed with the ingredients used for soothing skin like the aloe vera, chamomile and the very powerful apple extracts, gives you bright and right sensitive touch to your skin.
Advantageous Mascara- Lancome Difinicils Precious Cells Mascaracosting to $29 strengthens your eye lashes. Transform the wimpiest lashes into attractive lush ones with the perfect formula that is completely clump-free.
Soften Your Strands- Suave Naturals Juicy Green Apple Conditioner costing to $2 and easily available in any drugstore, helps you achieve the transformation of the wet strands into the soft and detangled ones. With the apple being the major ingredient, it has a wonderful aroma making your hair smell great.
Shampoo- Lavera Apple Milk Shampoo costing to $14 helps you have a incredible experience of hair wash. No matter what type of scalp you have; oily or dry; extracts of apple in the product replenishes the strands. Apart from this, Vitamin E gives that one always coveting silk and smooth feel.