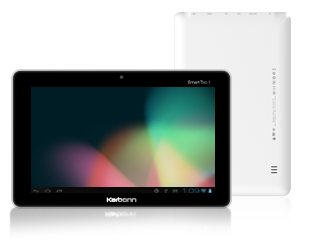 Price seems to continue to decline for the next tablet that will operate with Android 4.1 Jelly Bean. This time the company from India, Karbonn Mobiles , announced that their tablets are operated by Jelly Bean will be priced at just $ 125 only. Smart Tablet Tab 1 will be the second tablet that operates with a jelly bean after Google announced 
Nexus 7 on 
the Google I / O late June. 
Smart Tab 1 is even cheaper than the Nexus 7, which is priced starting from $ 199. 
tablet will come with a screen of 7 inches and has a single-core MIPS processor 1.2GHz, has a front 2MP camera, 3G support, battery life up to 7 hours when surfing the internet, 8 hours to watch the video, 32GB of internal storage and is rumored to be augmented with microSD. 
Surely this specification look less attractive when compared to Google and Asus tablet. 
Companies from India itself expects to sell 200,000 units per month tablet.
origin source pc world via teknoup