There are loads of cool tablets to choose from that will be more than suited to the businessman. With some great battery life to offer and fast processors, you can work on the move as much as you need too.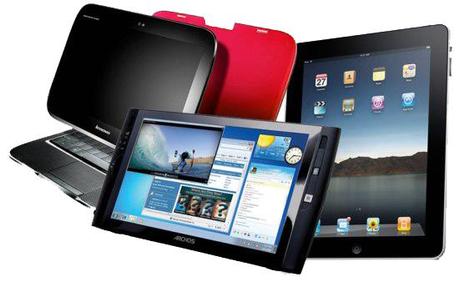 So, now we know what to expect from Google's Nexus 7 tablet, it's time to focus on the Android tablets that are available and of use to the consumer now. There are some really great tablets on the market that could certainly help along a business owner whether for work, on the move, or keeping connected. Android allows users to install alternatives to Microsoft Office, like Quick Office HD Pro and Google Docs, which means you can work from your tablet is you choose!
The Amazon Kindle Fire is small, with a 7 inch screen, great value for money and easy to use. If you are using your tablet for work, then this one has the added bonus of having free cloud storage for Amazon content so anything you download there won't take up your much needed memory! The battery life is approx. 4 hours and 55 minutes.
The Asus Eee Pad Transformer Prime TF201 is a great tablet for that laptop feel with a 10.1 inch screen and can support USB storage for those all-important documents that you might need to work on whilst on the move! The battery life is a bit more in keeping with the business owner lifestyle at approx. 7 hours and 38 minutes.
Asus Transformer Pad TF300 has a great keyboard dock and a fast CPU meaning you can be productive wherever you are. It is one of the fastest tablets available with a nicely sized 10.1 inch screen to suit the businessman. The battery life is on this one is great for the business man at approx. 7 hours and 53 minutes.
Asus Transformer Pad Infinity TF700 is said to be the best priced large-screen Android tablet available with a great 10.1 inches and a sharp resolution display. This tablet has a powerful processor and components. The tablet is another with a great battery life at approx. 7 hours and 17 minutes.
The Barnes & Noble Nook Tablet is a smaller tablet that is better suited to reading, but there's nothing to say this is not what the businessman will choose to do! It's a great tablet with a 7 inch screen, just not that many apps available. The battery life is approx. 4 hours and 22 minutes. Downloading is easy but make sure you have a good data plan too; find SIM only contracts online. Use the main SIM Only Deals website to see the different plans.
For simplicity and elegance there is the Samsung Galaxy Tab 2 (7.0). With a sleek and small 7 inch screen this tablet really shows off the Android OS. This is the best tablet if you are looking for the latest in Android software right now. The battery life is approx. 5 hours and 48 minutes.
Another 10.1 inch screen and we have the Acer Iconia Tab A700. This tablet offers a fast processor and USB host mode. It offers an impressive retina display for sharp viewing at 1920 x 1200 pixels. The battery life is approx. 8 hours and great for the hectic days that come with being a business owner.
The Samsung Galaxy Tab 7.0 Plus is a nice little 7 inch display tablet with a fast processor and sleek look. This one is a nice small tablet for the businessman to carry around for working on the move. The battery life is approx. 6 hours and 24 minutes.
The Toshiba Excite 10 has a 10 inch screen and a full-size SD card slot for extra memory or storing documents. It is powerful and sleek with a battery life that isn't bad at approx. 6 hours and 12 minutes.
This goes to show that there are plenty of tablets out there to choose from. The business owner needs something with a longer battery life so luckily there are options there too! With the best here topping 8 hours there is something that every business owner can benefit from whilst on the move to keep connected.
Author Bio