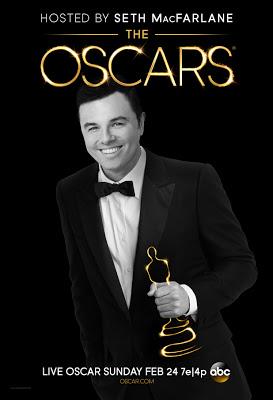 Yes, the time has finally arrived. The Oscars. A night filled with glitz, glamour and those beautiful gold statuettes...what's not to love?
Unlike last year's rather predictable affair, it seems that there could still be a few surprises on the awards front tonight. Can't you feel it? The air is tinged with a perpetual anxiety, that glorious feeling (or fear, depending on who you're betting on) where a surprise name is called, and an inaudibly disappointed sigh crosses the room, as the high flying suits watch months of marketing, publicising and campaigning fall gracefully before their eyes. Granted, we all know that Day-Lewis and Hathaway will seal the deal, but as of late, the best actress, supporting actor and even director categories have been both burdened and blessed with critical uncertainty, thus a night of more entertaining and nail biting measures is promised.  
Will Jennifer Lawrence pick up her first Oscar for 'Silver Linings Playbook', or will the formidable Emmanuelle Riva (who turns 86 today), steal it for 'Amour'. And we can't leave the brilliant Jessica Chastain out of that mix either, for her powerful performance in 'Zero Dark Thirty'.  Christoph Waltz is set to get his second Oscar for 'Django Unchained' (his second collaboration with Quentin Tarantino, who also scored him his first Academy Award), but will it be the second for Tommy Lee Jones in 'Lincoln' instead? It's simply too close to call. 
It may be naive in raising ones hopes for a better ceremony this year, but with a man like Seth MacFarlane at the helm, we might be excused in thinking that tonight may well be the Awards extravaganza we've really been waiting for.  As a man who's certainly been in the limelight for the past year, what with his successful directorial film 'Ted' under his belt, SNL hosting, singing for the BBC Proms and the always reliable 'Family Guy' still airing, MacFarlane may be just what the Academy needs to dust away those conservative cobwebs, and inject a good old dose of fun back into the prestigious Awards.  Only time will tell...
Either way, you won't want to miss it.