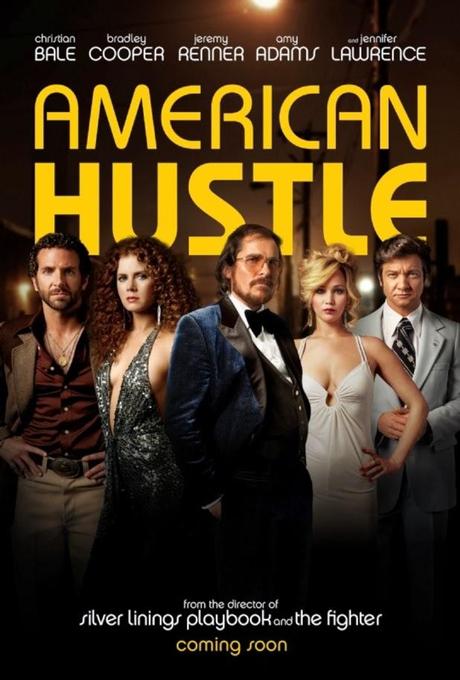 Director: David O. Russell
Starring: Christian Bale, Bradley Cooper, Amy Adams, Jennifer Lawrence and Jeremy Renner
Certificate: 15
Run Time: 138 minutes
IMDb Summary: 
A con man, Irving Rosenfeld, along with his seductive British partner, Sydney Prosser, is forced to work for a wild FBI agent, Richie DiMaso. DiMaso pushes them into a world of Jersey powerbrokers and mafia.
Combining the stellar casts of his two previous films, 'The Fighter' and 'Silver Linings Playbook', David O. Russell has returned with a luscious 70s extravaganza. With fantastic music, costumes and settings, 'American Hustle' really is a fitting tribute to the flamboyant era, where hair clearly knew no boundaries and bras were non-existent. Having already won several awards, the film is a sure fire contender at the Oscars. 
Just as con man Irving Rosenfeld (played by an unrecognisable Bale) alongside his partner Sydney (Adams) attempt to hustle and entice their next client, the audience also gets seduced by the overall trickery of the film - not to mention Russell's lavish and eccentric script. But when the cracks in Rosenfeld's facade begin to show, mainly due to the introduction of both Bradley Cooper and an always fabulous Jennifer Lawrence, we see the dark roots of economic corruption begin to flourish. Thus, the hazy 70s dream transforms into an inescapable nightmare.
All actors and actresses are on top form here, transforming what could potentially be rather parodic dialog into an incredibly sophisticated verbal waltz. Lawrence, in particular, thrives with the endearingly manipulative housewife role, further demonstrating her unprecedented talent and diversity. As she parades around the house, singing 'Live and Let die' and cleaning with a ferocious spirit, you'll wonder whether there's anything she can't do. 
'American Hustle', first and foremost, is a film that boasts a formidable ensemble cast. More than anything it must be watched for this reason. Add a fast paced narrative, a killer soundtrack and a Robert De Niro cameo, and you're in for a winner.