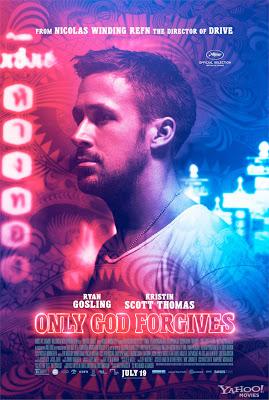 Director: Nicolas Winding Refn
Starring: Ryan Gosling, Kristin Scott Thomas, Vithaya Pansringarm
Certificate: 18
Run Time: 90 minutes
IMDb Summary:
Julian, a drug-smuggler thriving in Bangkok's criminal underworld, sees his life get even more complicated when his mother compels him to find and kill whoever is responsible for his brother's recent death.
The most important thing to understand about 'Only God Forgives' is that it is a film one hundred percent directed by, created by, envisioned by and executed by Nicolas Winding Refn. If you're looking for powerful and determined film making, this is it. After his previous success and first collaboration with Ryan Gosling, Refn does not in any way adhere to the expectations of a post - 'Drive' audience, instead opting to unleash his own bizarre and beautiful aesthetic to an even higher degree. And really, who can blame the man? As we've seen, 'Only God Forgives' has divided audiences and critics alike; some have called it a visual masterpiece, whilst others have wrote it off as self-indulgent drivel.  Yet, isn't this the greatest compliment a film can receive? To have people talking, arguing, debating and being generally curious?  'Only God Forgives' is not for the passive viewer, and those who merely want to see Ryan Gosling triumph with the same handsome finesse seen in 'Drive' will be sorely disappointed.
This film is dark. This film is tense. And here's why; Nicolas Winding Refn has the ability to transform what is simply Ryan Gosling walking down a corridor into a moment of excruciating suspense - at times it becomes almost unbearable to watch, and combined with Cliff Martinez's eerie score,  you're sure to have your palms sweating with tension. The entire film is about the 'build up', and how a scene need not be rushed to have the desired effect. Refn is in full command, giving his audience just enough to remain on the edge of their seat.
And this perpetual mixture of pleasurable anticipation and anxiety lasts for the whole hour and thirty minutes.
The characters in this film contribute largely to its disturbing nature. Ryan Gosling's Julian is a broken, silent man, made even more complex when his Mother Crystal arrives, (played brilliantly by an almost unrecognisable Kristin Scott Thomas) with whom he shares a perverse, Freudian relationship.  We then have Chang, presumably the 'God' of the title,  whose otherworldly strength and own path of justice make him as ambiguous as his other on screen counterparts. It has to be said that no characters are likeable, but this is clearly an intentional, conscious directorial decision that pays off handsomely. Perhaps this is what makes the film so fantastic; no matter how complex, every formal and technical decision has been made for a reason.
However, it has to be said that the overall visual presentation is perhaps the most gorgeous aspect of this sumptuously surreal film.  The cinematography, even from the opening frames, is glorious. It's the kind of camerawork that takes your breath away. This, combined with atmospheric lighting and staging props, makes for a truly beautiful appearance. 'Only God Forgives' has been crafted with such finesse, such style and such wonderful imagination, that is demands repeated viewings.
It might not have been the film everyone wanted, but through time, this film will receive the credit it deserves. After all, it's no secret that many films of the past which were hated upon their initial release are now considered 'classics'.  'Only God Forgives' deserves to be watched - consider your cinematic palate all the more enriched and tasteful for having seen it.