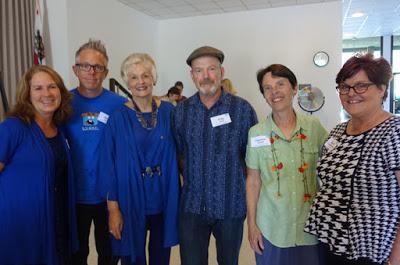 Mary Ann Fraser, James Burks, Joan Bransfield Graham, Greg Trine, Caroline Arnold, Rebecca Langston-George at the Breakfast With the Authors, Santa Barbara, CA, October 3, 2015
Last Saturday, October 3rd, I had the pleasure of participating once again in the
Annual Breakfast with the Authors
, hosted by the Santa Barbara County Office of Education. This was the 63rd anniversary of the breakfast–each year an opportunity for people who love books and reading to meet with authors and hear about their latest books and thoughts about writing while enjoying a delicious breakfast. Featured authors this year were myself, James Burks, Julie Dillemuth, Mary Ann Fraser, Rebecca Langston-George, Mel Gilden, Joan Bransfield Graham, Valerie Hobbs, Michelle Robin La, Sarah Lynn Scheerger, Greg Trine, Mark London Williams, and Lee Wardlaw. (We missed Lee, who couldn't make it at the last minute.) 
In recent years, the authors have been given a topic to respond to in our short (3-5 minute) talks. This year, the question was:
If you could write in any time period past or future, when would it be, and why?
Answers varied from the Stone Age (when stories were written in pictures) to the 40's and 50's (when children's books came into their own in the publishing world)  to the present (with the explosion of the digital age and all that means for research, writing and communicating with editors.)
I thank Rose Koller, Fred Borchers and everyone at the Office of Education for all the hard work of putting on the breakfast and to Chaucer's Books for providing books for sale and autographing. I have been attending the Breakfast With the Authors since the 1980's when my first books were published, and it is always a highlight of my year and a great way to begin the school year.