Planned to start this project on the day 
Little Miss Bébé turns two, but then I realised, why wait to capture her moments when every moments are just absolutely precious? So I'm officially s
tarting off my first ever portrait of Little Miss Not A Princess Bébé, as part of the 52 - A Portrait A Week project.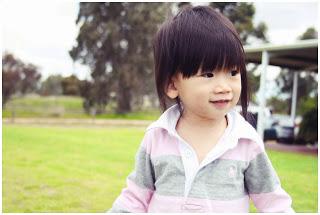 Age: 22 months 3 weeksLocation: Penny Gardens, Swan ValleyAttire: Polo Dress by Polo Ralph Lauren
Taken at Swan Valley, Western Australia over the weekend. Little Miss Bébé sure is growing up quick. I really should have gotten into this project sooner. As I was scrolling through my photo albums, I found that there were some months where not a single picture was taken. *Feeling guilty* Hopefully this project will inspire myself to cherish every moment I have with her and capture as many memories as possible. It won't be long when she grows into a beautiful young lady, and leave behind her innocence. 
Oh, how I miss my little tiny newborn baby. Mommy will always love you, my little precious. <3