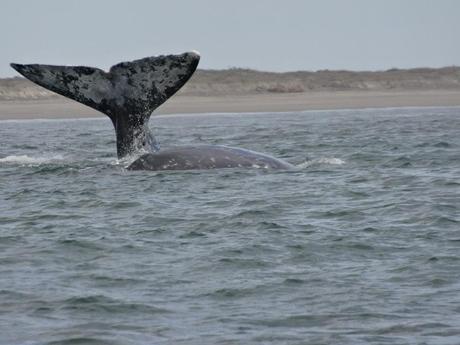 Gray whales are pretty cool. They migrate from the Bering Sea all the way down to Baja, Mexico every year in October. Their long journey takes until about the end of December or the beginning of January. When they reach their destination off of the Baja peninsula, the pregnant females give birth in protected bays and lagoons. February is the best month to see the gray whales- the babies have pretty much all been born and are out in full force. Around the end of March, once the babies are ready for the long journey, the moms and babies (and dads!) make their way all the way back up to the Bering Sea.
When I found out that I was going to Baja during whale watching season with
Villa del Palmar at the Islands of Loreto
, I thought, "oh, that's cool!" I had no idea what a life-changing experience whale watching would be. Here are the things about the experience that surprised me the most!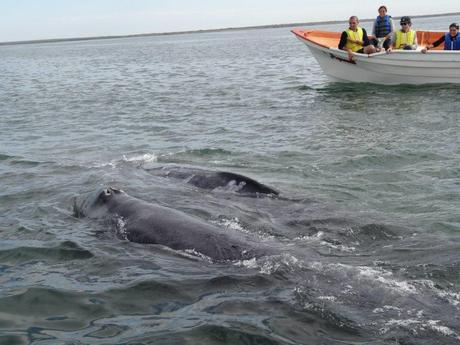 Surprise #1 - Whale watching is kind of a big deal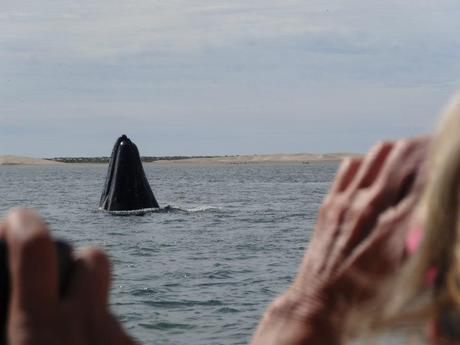 In peak season in February, people jam the ports to try and catch a glimpse of the gray whales. Our tour guide from
Wild Loreto
, Ephrain, said that sometimes people wait in line all day and don't even make it out on the water by the time everything closes at night. The day that I went whale watching (in January), there was a tour group that had driven 6 hours from Cabo to go out on the water for 2 hours, and then they were turning around and driving back!
Surprise #2 - Gray whales are curious creatures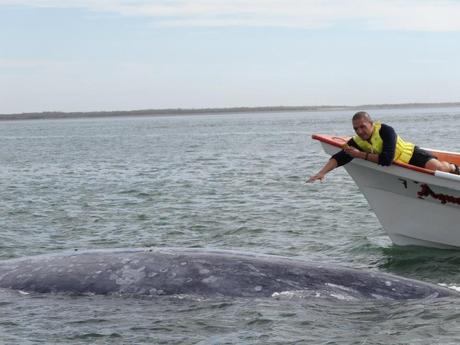 They are certainly not shy. Sometimes they come right up next to the boats, or swim right underneath the boats. If you're lucky enough, you might even get to pet one!
Surprise #3 - Taking pictures of them is pretty darn tricky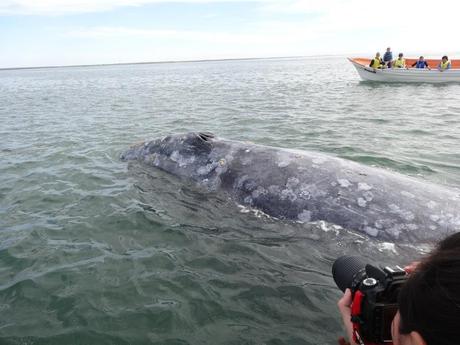 Plan on taking hundreds of pictures just to get a few great shots. Make sure your camera batteries are charged and that you have back ups. At first I tried to turn my camera on and off as needed, but it didn't turn on fast enough to snap pictures before the whales went back under water. So, I resorted to pretty much keeping it on the whole time. Needless to say, I pretty much drained my battery on that trip.
Surprise #4 - Time flies when you're having fun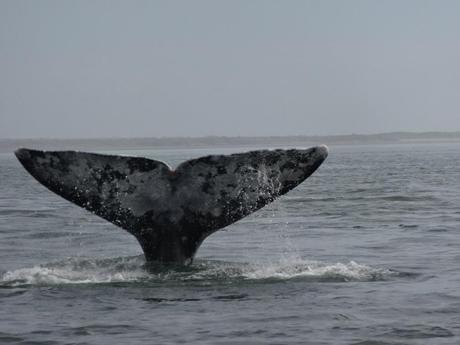 Our time on the boat went by way too fast. You would think it might get kind of old, seeing the same glimpse of a whale's back over and over. But even by the end of our boat ride, I was still going 'oooh' and 'aaahh' with each glimpse of a whale, and pointing and shouting whenever I was the first on our boat to spot one.
A Little Bit of Whale Trivia
And just because I love trivia, here are some of my favorite facts about gray whales that I learned while whale watching in Baja:
They have the longest migration route of any mammal-about 5000 miles each way.
Baby gray whales drink over 50 gallons of their mama's milk a day!
They have a lifespan of 50-70 years.
They use the side of their faces to scrape sand at the bottom of the ocean to kick up all the tasty crustaceans that they eat. This is why you will see some whales with scratches on their faces.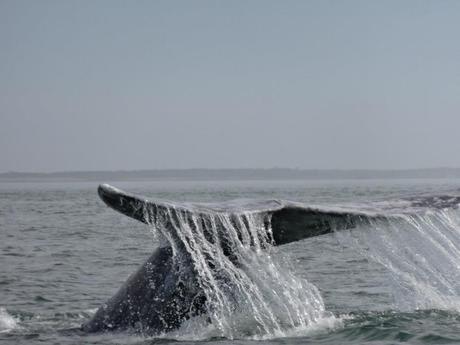 For even more great photos from the day, check out this post from our friend Runaway Juno who was on the same whale watching excursion as I was.  But to truly understand how a day whale watching will change your life, as it did mine, you must get out there and do it yourself!  You won't regret it.
My trip to Baja, Mexico was sponsored by Villa del Palmar at the Islands of Loreto.  To read my full review of the amazing resort, check out this post!  All opinions expressed within this post and photos are my own from the amazing whale watching day trip.