#2/365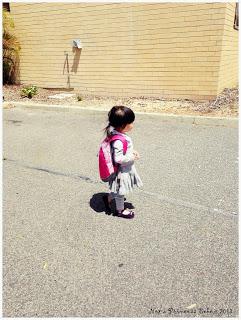 "Little Miss Not A Princess Bébé went to playschool today. She was very willing to participate during paint art session, naming all the colours she wanted to use for her artwork. Good job, my little bunny! =)"
A little more than a month before Little Miss Not A Princess Bébé turns two, and she's already begun exercising her rights as a little human being. Everyday, she lets me know exactly how she feels with whatever that was being offered. Like her brekkie, she'd wake up, look for me, and get me to carry her to the kitchen. She then looks around when I ask her what she wants for brekkie, she'd point to the bread, eggs, cheese, fruits, etc. and tell me exactly what she wanted. Of course, there will be days where brekkie would have been prepared before she's awake, and she'd happily eat whatever is on her plate. Granted, there are also times where she takes a few bites and refused to eat any more. But I'm cool with that. We as adults, have our bad days too, right? So who are we to question or suppress what the little ones are feeling? Maybe they lack appetite, maybe they're just not hungry. Usually I just leave her be, and let her know that the next meal time is morning tea/ lunch (depending on what time she wakes up). 
Anyway, today at playschool, I was quite surprised when we got to art session and she started pointing to the colours and asking me to get them for her for her artwork. I give her a blue, she shakes her head and says, "yellow". So when she was finished with blue, I asked her what she wanted, and she told me exactly which color she wanted. Usually she'd be happy to take whatever I offered, but lately, she's been quite opinionated, which in a way is a good thing. At least she knows what she wants. 
Then in the car and on the way home, she asked for some crackers (mommy's fault as I used to "bribe" her with food during long car rides". Instead just asking for crackers, she also said "thank you" on her own when I passed her the cracker. So so happy! My little girl is starting to get into the habit of saying her "sorry", "please" and "thank you" (more on the "please" and "thank you" on another post). Yay!
So yes, that's my little bunny's achievements today. I'm a happy mom today. *Thumbs up* to my little sweetheart, mommy loves you! <3