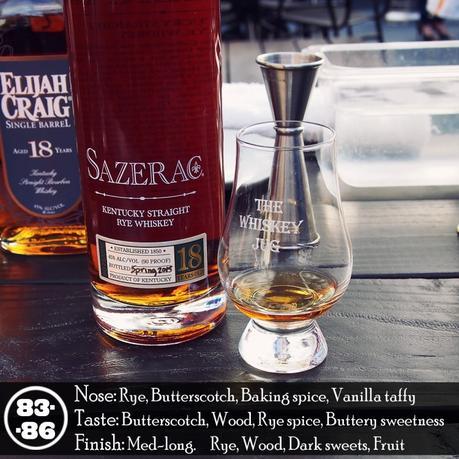 The 2015 Sazerac 18 years is the last year of the tanked Sazerac – next year will be fresh Buffalo Trace juice. If you're not familiar with the story of Sazerac 18, and thus don't know what in the Sam Hill I'm talking about, allow me to fill you in. Back in 2005 Sazerac 18 was given the award of American Whisky of the Year by Whisky Advocate (then Malt Advocate). Buffalo Trace didn't want to risk the remaining stocks of whiskey becoming over-oaked so they dumped all the barrels of 18+ year old Sazerac they had into a giant 13,500 gallon steel tank to halt the maturation process and the 2006 Sazerac 18 was the first steel tanked release.
In 2008 they moved the whiskey into 3 smaller tanks (2,100 gallons each) and have been pulling the whiskey each year from these tanks. Buffalo Trace also did this with the old Hirsch 16 & 20 year old whiskeys (original Michter's Distillery) and it seems to becoming an increasingly popular method to arrest the aging process of older whiskeys. Wild Turkey did the same thing with their Russell's Reserve 1998, Heaven Hill did it with their John E. Fitzgerald Special Reserve and I wouldn't be surprised at all if Diageo was doing the same with some of their future Orphan Barrel releases.
2015 Sazerac 18 years Info
Region: Kentucky, USA
Distiller: Buffalo Trace
Mashbill: Rye mash
Cask: New Charred Oak
Age: 18 years
ABV: 45%
Batch: 2015 (technically 2006)
Price: $80 (MSRP)
2015 Sazerac 18 years Review
EYE
Maple Syrup
NOSE
A nice pop of rye followed by butterscotch, baking spice, vanilla taffy, citrus and just a touch of dill. It's a decent aroma all around and it was pleasant enough while sitting and sniffing it on the patio of Everyone Royce bar.
PALATE
Butterscotch, wood, rye spice, a buttery sweetness, a touch of fruit and an earthy, almost herbal, undertone. Again it was decent and was perfectly enjoyable to sit and sip, but it wasn't anything particularly special either.
FINISH
A med-long fade fueled by rye, wood, dark sweets and a bit of fruit.
BALANCE, BODY & FEEL
Moderate balance, medium body and a smooth approachable texture – no real heat to speak of.
OVERALL
The 2015 Sazerac 18 Years is a decent, average, rye whiskey. It's not something I'd balk at if given a glass, but still not something I'm interested in paying $80 for let alone the absurd secondary prices. If I'm being totally honest I like the regular Sazerac Rye more because it's more lively, expressive and balanced. There is a harmony in the Baby Saz that I'm missing here.
Since this was done at a tasting I thought I'd add that some of the folks at the table thought pretty much the same thing about this whiskey while others thought it was a bit better than I was giving it credit for. Although no one at our table thought that it was amazing or even ranked it in the top 3 of the night and we did the entire BTAC line, Four Roses LE, Elijah 18 and Parker's Heritage Malt whiskey. Tasting is personal, and opinions vary, so take that info for what it's worth.
SCORE: 83-86/100 (consumed at a tasting, not at home)