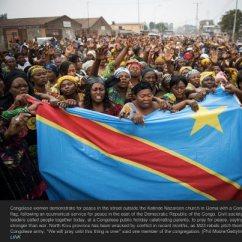 Congolese women protesting against Rwandan support to M23
The number of returnees does not seem very significant so far – by Sunday 11/08/13, Kigali was talking of 3000 people and 2000 cows that had crossed the bridge of Rusumo between Tanzania and Rwanda, on the Akagera River. The significance is only relative because even striping one person of their rights is not acceptable.
This is not the first time Rwandans are forcibly returned back to their country. Though I don't want here to focus on similar past events which affected these people, some more tragically than others, let me only mention the 1981 forced return of former Tutsi refugees who had been living in Uganda for two decades that the Ugandan authorities sent back to Rwanda. They were close to 80,000 people.
Undoubtedly the way the government of Habyarimana received them did influence somehow their resolve to come back the way they did: instigating the invasion of Rwanda in October 1990 after having successfully helped Museveni in 1986 to get into power in Uganda.
What I would want however to highlight instead are the double standards that Kigali applies when it comes to Rwandan refugees or those living outside when they have to or should come home voluntarily or forcibly.
In recent years, the government of Rwanda has been advocating and using all means at its disposal to have Hutu refugees striped off their legal status of being stateless because they wouldn't feel safe if forced to return to Rwanda.
If it hadn't been for a steady campaign from Rwandan organisations [political and not for profit] speaking for the thousands of refugees spread across the world, Kagame's government would've even used force if he could to end the refugee issue.
In fact, as he likes to say publicly, for those who were particularly in the Democratic Republic of Congo, he used force and those who didn't want to return, he chased them like animals and killed them. The armed group FDLR, which is based in Eastern Congo and consists of Rwandans opposed to Kagame's regime, are the remnants/survivors of that man hunt which killed more than 300,000 Rwandan Hutu refugees across the DRC.
Despite the fact that people would effectively like to go home, the paradox is that the Rwandan president, for all this time he has been the one single strong man of the country of a thousand hills since 1994, he has been doing everything else except to create conditions conducive to the return of his compatriots.
When it is about Hutu who are being tracked to get them forced back to the Rwandan "prison", Kagame and his government are happy to see them returned. Being outside the national boundaries, they constitute a danger to the serenity of the Tutsi power in Kigali. While being inside they are much more controllable if not reduced to silence forever.
After the Rwandan genocide of 1994, and following the millions of Hutu who had fled the Rwandan Patriotic Front's atrocities, Rwanda, regional countries including Tanzania, even the international community, let Kagame have forcibly his Rwandans who had found refuge in neighbouring countries.
While the tracking of Hutu by the Kagame government has never stopped, in parallel there has almost been a deliberate but implicit policy from the Rwandan authorities to facilitate the implantation of Tutsi populations in neighbouring countries, particularly in areas bordering the country, and therefore acting as buffer zones for the regime in Kigali in case there was an external force of Rwandan armed dissidents who are not Tutsi.
Though there are here other aspects to consider, especially of economic nature, M23 and other similar rebellions of Tutsi dominance in Eastern Congo which came before, they all have a strategic role for the political security of the Tutsi led regime of Kigali. With the numerous UN reports attesting of the Rwandan backing of M23, there is no doubt today that all this is part of the mentioned strategy.
This understanding might explain the present unhappiness of Kigali of seeing his Tutsis being expelled from Tanzania. As people remember, all this started by what the Rwandan president said on 30/06/2013 in a conference for the Rwandan youth.
A public statement of a politician can have unexpected and far reaching consequences and even non intended initially by the author.
After the ultimatum given by Tanzanian authorities to illegal foreigners to have left the national territory by Sunday 11/08/13 and considering what is happening to Rwandans who were living in Tanzania even since the end of the 50s, I don't think that the Rwandan president expected at all that.
For the record he said publicly that he was going to wait for the right time and hit him [the Tanzanian president Jakawa Kikwete].
Recently, Tanzanian officials have been complaining about media outlets which have been misinterpreting measures taken to reinforce national security but don't target any particular foreign national. These measures are aimed at every foreign falling in such category of being illegally residing in the country.
There is something observable in the current attitude of the Rwandan government in front of the crisis of returnees from Tanzania. Since the information from M23 deserters interviewed by BBC confirmed that the Rwandan government had dispatched many teams of saboteurs in different countries of the region to create instability, many governments are taking measures to protect themselves against these intended and damageable actions from the Rwandan authorities.
One observer goes on for example to explain the current crisis between Rwanda and Tanzania in these terms:
"There is also fear among many Tanzanians that Rwandan leaders may have a secret agenda of "flooding" border districts with their people so that they can "annex" the territory in the future and incorporate it into Rwanda on the grounds that it now "belongs" to them since it is inhabited by Rwandans, the same way the "Banyamulenge", who are Tutsis of Rwandan origin, have tried to do in eastern Congo, especially in Kivu Province, where they have tried to establish a de facto independent state, allied to Rwanda, with the support of the Rwandan army and government. [In the case of Tanzania] The focus is on the Kagera region." 
If all the countries of the region had to take similar measures as Tanzania is doing against Rwandans living illegally on their territories, won't this be a recruiting ground for those who want to see Paul Kagame ousted from power?
Whatever the way one looks at the political scenery of the region, it shows that the future of Rwanda is becoming more and more uncertain by the day.