Manchester rockers the 1975 are back with a new EP, and this time, it's a lot sexier. It was just a few months ago that the Facetime EP first introduced us to the atmospheric buzz band's dark yet dreamy vibe. The promising, four-track debut marked The 1975 as a band to watch, but left us wanting more. Thankfully, its follow up, Sex, certainly fills that void, an overall enchanting (but still small) collection of songs that find the 1975 sexier, yes– but also bigger, bolder, and better than before. One little tangent before all the clothes come off: when are these guys coming state-side? Looking at their tour schedule, it looks like never. Come on, bros, there are plenty of Seattle music events, LA massives, NYC clubs, etc. that could use your fresh blood.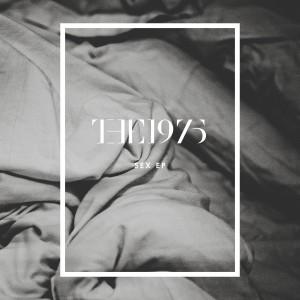 Anwyway, at just four tracks, Sex may not be long, but it definitely gets the job done (sorry, I had to). The undeniable center of the EP is first single and title track "Sex," a brazen alt-rock power ballad that manages to both raise and answer a very important question: does an alt-rock power ballad by the 1975 work? It's a style that's hard for a lot of bands to pull off, but it works far better for the 1975 than it does for, say, Kings of Leon. Rooted in Britpop, the song touches on such relatable topics as desire, longing, and eventually, heartache, because "she's got a boyfriend, anyway." Suffice it to say, "Sex" is a single that definitely grows on you. (I know, I know! I can't help myself! These puns are just falling right into my lap).
Anchored by "Sex" are introductory  track "Intro/Set 3," the electro influenced "Undo," and melodic closer "You." Unlike their contemporaries the XX, the 1975 prove with Sex that it's definitely possible to maintain the same winning atmospheric feeling, all while allowing it to reach new heights. "Intro/Set 3″ and "Undo" are both reminiscent of James Blake and the Postal Service, and where "Sex" is epic and grand, they are far more quiet and intimate. Standout track "Intro/Set 3″ sets things off right with intermittent jolts of sound that course through the song like electrical currents; but unfortunately for "You," it makes the closing track feel weak in comparison. The EP ends on a sour note of, "That's it?"
The 1975 are still a buzz band worth watching, but with two EPs already under their belt, our patience is running thin. Where's the full length? In the meantime,  Sex is a definite step in the right direction.

3.5 / 5 stars
The 1975 – Sex by the1975
The 1975 – You by the1975