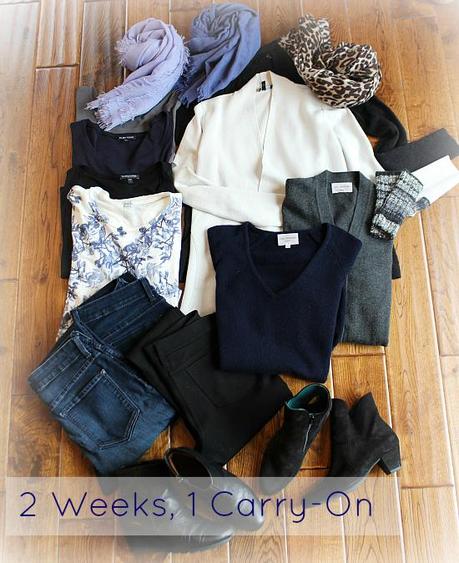 So here it is. Perhaps a little boring, but it will get the job done. Everything goes with everything else. I went back and forth on the ivory sweater, decided to throw caution to the wind in the interest of including another lighter colored piece.
Let's go counter-clockwise from the upper left.
Tops:
3 silk jersey tees, all 3/4 sleeve (1 black, 1 grey, 1 navy)
1 linen jersey print tee (to add some color and print, layers well over other tees if needed for warmth)
Pants:
2 pair denim (1 heavier "legging jean," 1 lighter weight denim)
1 pair ponte knit jeans (we're not planning anything formal, these will dress up enough for evenings) Similar.
Sweaters:
1 navy cashmere v-neck
1 charcoal gray cashmere cardigan
1 ivory cardigan (cotton/silk blend)
1 black wool crepe long cardigan
You're right...that's only 11.  I've left myself a "wild card" piece (or two) To Be Determined upon final pack.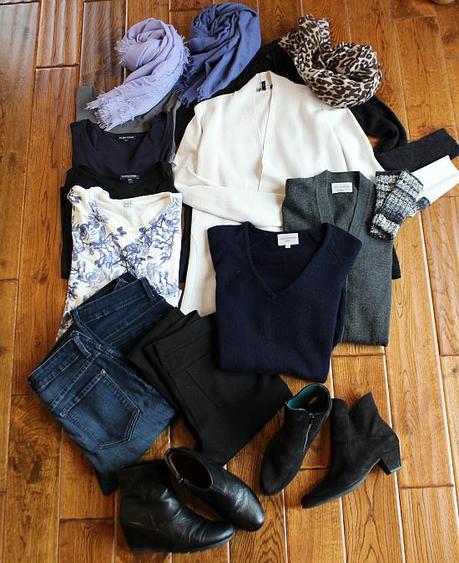 Shoes:
Wedge ankle boots (casual)
Low-heel nubuck ankle boots (casual or dressy)
Based on current weather forecasts, I'm doubtful that it's worth my while to pack a pair of sandals or flats. I toyed with the idea of knee boots, but that felt like overkill.
Scarves:
Animal print cashmere wrap
2 cashmere/silk blend scarves
I may throw in a wild card scarf or two, something brighter for when I'm craving some color and pattern.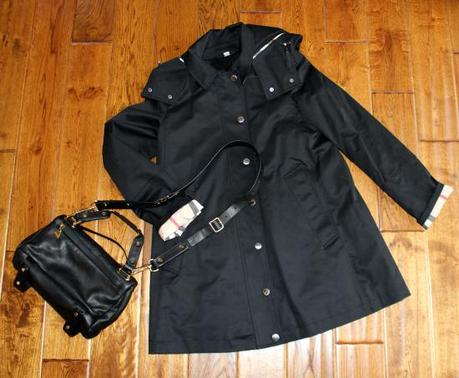 Outerwear and bag. Yep, both black. Ultimately, the practicality of darker neutrals (mostly) won out over the notion of more color and light neutrals. The raincoat has a removable wool lining, making it workable for a wider range of temperatures.
Base layers for warmth not shown (and not counted in my dozen items):
silk jersey tank 
Adea 3/4 sleeve tee 
silk thermal tee
Also not shown/counted: underwear, socks and 1 pair pajamas.
All of the clothing items can be hand washed and line dried if necessary. I'm hoping it won't be necessary for the denim pants, but if we need to we can hunt down a fluff-n-fold service. 
Having learned from past experience, I'm not bringing much jewelry. Probably a couple pairs of earrings, a watch, a necklace, a couple of bracelets.
C'est tout.
I really recommend this Polyvore On The Floor method for constructing a cohesive travel wardrobe. It's so helpful to look at your capsule as a whole; each time I've done this, I've seen at least one piece that I'd planned to include that ultimately didn't fit (though it may have coordinated well with one or two other items).
One more sleep before we leave!  I'll show you my Wild Card selection tomorrow.
Do you have a strategy for putting together a travel wardrobe?
Disclosure: actions taken from some links in this post may generate commissions for www.unefemme.net .
~ All original content property of http://www.unefemme.net This work is licensed under a Creative Commons Attribution-NonCommercial 3.0 United States License.