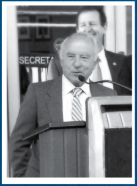 Patagonia founder Yvon Chouinard speaking before officially becoming California's first benefit corporation.
Patagonia is an icon in values-led business and sustainability, and its certification in 2011 elevates the community of B Corps in terms of size and credibility.
In his book Let My People Go Surfing, Patagonia founder Yvon Chouinard says he wants Patagonia to be a company that will last 100 years, and in doing so, be a new model for good business. Yvon's longtime friend, fellow adventurer, and Patagonia's Director of Environmental Mission and Communications, Rick Ridgeway shares how becoming a B Corp helps Patagonia reach these goals.
Why did Patagonia become a Certified B Corp?
The principle benefit to Patagonia from B Corp certification—that now is formalized by the new California benefit corporation law— is the mechanism it provides to protect the company's core values during succession. Another important one is how B Corp certification provides the company a quantified measurement of its performance in living up to our environmental, social and governance values.
Why do you think B Corps are important ?
Part of Patagonia's mission is "to create a model other businesses could look to in their own searches for environmental stewardship and sustainability." B Corp enshrines Patagonia's nearly 50 year old model of business into law. And that makes it easier for other businesses to adopt this model and use it in their own search for stewardship and sustainability.
How does Patagonia define success?  
Patagonia defines success as its ability to achieve its mission statement "to build the best product, cause no unnecessary harm, and use business to inspire and implement solutions to the environmental crisis." B Corp certification provides the company an additional opportunity to measure our success against our mission.
Is there anything you learned by going through the certification process?
We feel that the certification itself is a process where we can provide positive feedback to B Lab, helping the organization tune its certification tool, while the certification in turn provides Patagonia with a benchmark of its performance against other companies.
What would you tell someone considering becoming  a Certified B Corp?
B Corp certification is a mechanism for companies not only to measure their performance, but also to share those measurements with their constituents, including shareholders and customers. Patagonia believes that companies that practice full transparency will be the ones in the future rewarded most fully both by their shareholders and by their customers.
This post originally appeared in the 2012 B Corp Annual Report.