Every day this month I am looking back on the 10 years since I started this blog in June, 2008. Part 4 is this one — Going Green — from December 2008, a photo extravaganza of every different color of green I could find in our garden.  
Several people have inspired this little blog about all the different colours of green here in my garden. First of all, it was Patient Gardener's fine blog from last June – 'How Green is My Garden' – which showed so many shades of green in just one garden. I read that post just today, and I had already been thinking of doing something along the same lines, prompted by kind comments about my blog from northern hemisphere gardeners who are a bit short on greenery right now, as the cold whites, greys and blacks of winter have a grip on their garden's palette for the meantime. So, as it's a horribly windy day that isn't much fun for gardening here today, I whipped around with the camera instead, looking for shades of green.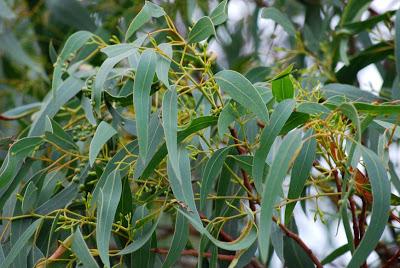 First up, the lovely blue-green of a gum tree's leaves. This is our street tree, Eucalyptus lexucoxylon 'Rosea'. It bears pink flowers from April to October each year, and right now it's wearing a new flush of beautiful leaves. This blue-green is the color which says 'Australia' to me most powerfully, so I thought I'd start with it, as it's the green I love best.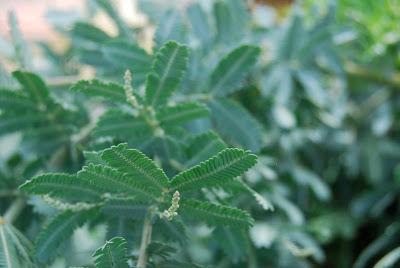 Another blue-green native plant, this is a groundcover form of the Cootamundra wattle, otherwise known as Acacia baileyana. Golden ball flowers in midwinter, delicate fern-like foliage the rest of the time.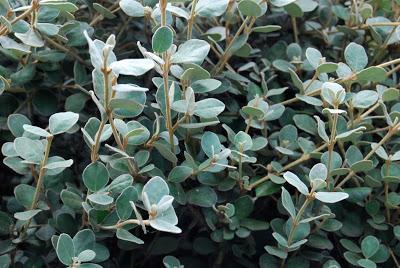 And a silvery-green native, Correa alba, which teams with the Cootamundra wattle in the front garden.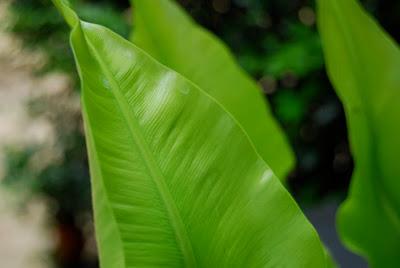 Not all Aussie native plants are grey-green, silver-green or blue-green. This fresh, tropical green color belongs to a native fern, the bird's nest fern, Asplenium australasicum.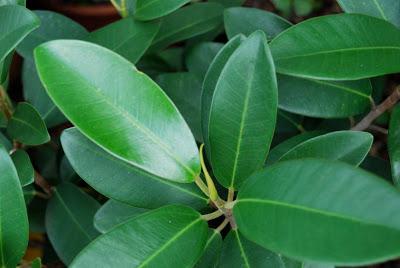 This richer, darker, deeper green belongs to my bonsai Port Jackson fig, another native. These also make the biggest, widest-spreading park tree Sydney has to offer.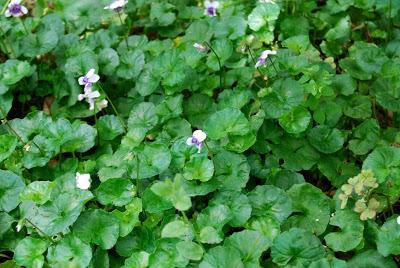 The tenacious little native violet loves its green shade, and makes its own contribution there, too.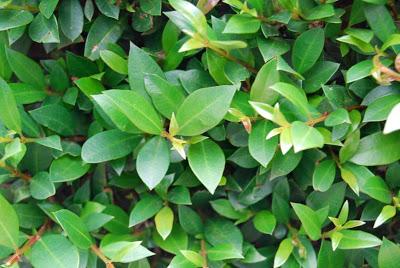 Another Aussie native, this is the foliage of a lilly pilly, most of which are from rainforest zones. This is a specially bred hedging plant which reaches just 1m tall. Great cultivar name, though – 'Tiny Trev'.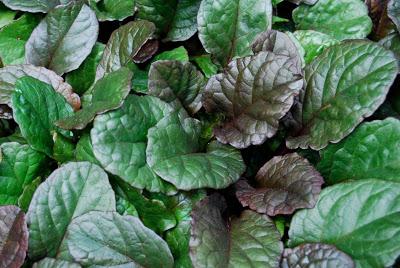 Moving on from the natives to backyard foliage plants in general for a while. This is Ajuga reptans, a compact groundcover that does best in semi-shade here.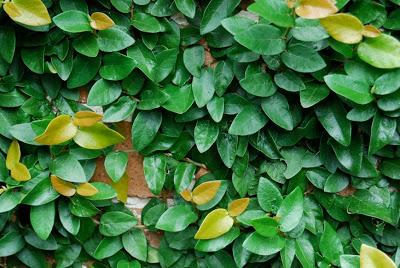 Rapidly covering the ugly brick wall of my neighbour's monstrous garage, this is the creeping fig, Ficus pumila. The pale leaves are the new season's growth.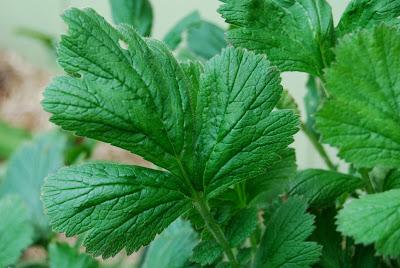 The solid green of a geum's leaves are a classic shade of green.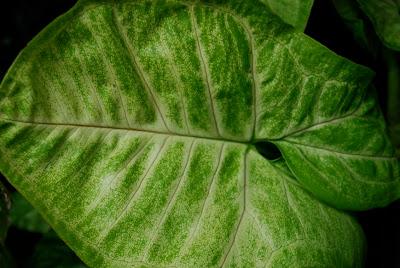 Don't know what this plant is. Pam had it as a potted indoor office plant for a couple of years, but it grew straggly and so I planted it amongst the ferns. It has thrived there without misbehaving, or needing attention, for a couple of years, and it always looks interesting with its variegated green leaves.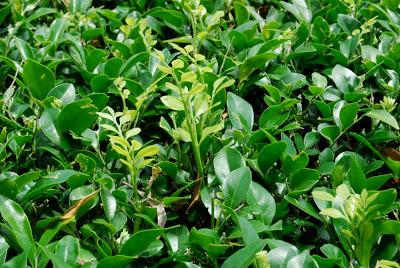 My favorite hedging plant, Murraya paniculata, could have been included with the natives up at the start of this post, as it is listed as being native to Australia, as well as South-East Asia. The new growth streaking away from the hedge here is always the lightest green. Always seems a shame to have to trim it.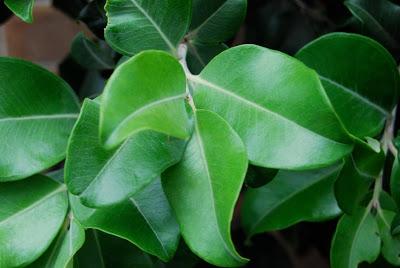 A festive New Zealander: Metrosideros, or the NZ Christmas Bush.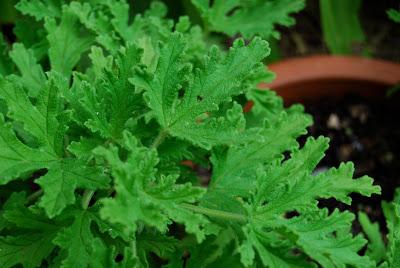 This green not only looks good, it smells wonderful, too. Well-named lemon-scented pelargoniums are one of the nicest plants to brush past, day or night.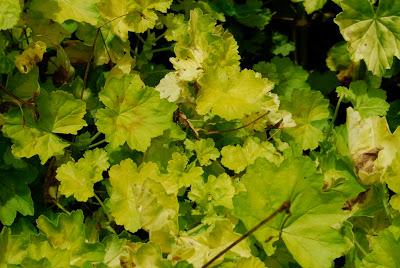 This pelargonium has no scent, but it does produce pink flowers. However, its real appeal is light yellowy-green leaves, which seem to glow in the sunshine.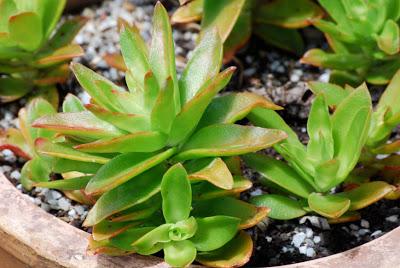 Succulents are an important part of the garden here, and their range of greens is not only pleasing but also varies as the seasons change. This is Crassula 'Campfire', which turns bright red in the winter cold.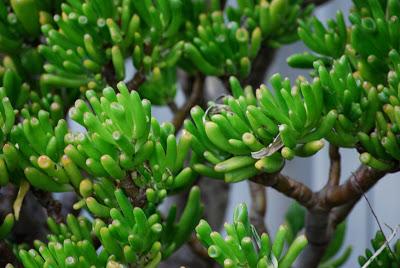 Crassula argentea 'Coral' doesn't change color through the year, but it's one of the larger plants in my succulent patch, and with its unusual hollow green leaves it always catches your attention.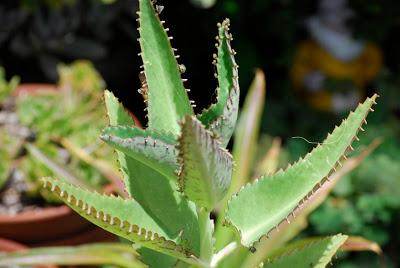 Kalanchoe daigremontiana stands tall among the other potted succulents, its dramatic shape distracting you from noticing that its light green leaves are of a color not found in any other plant in the garden.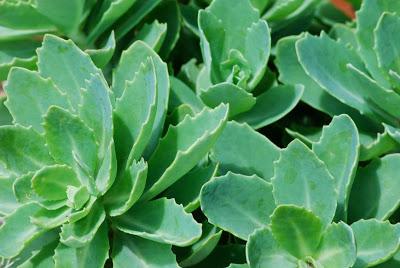 Sedum 'Autumn Joy' will, as its name suggests, flower in autumn. Until then, we're perfectly content to admire its foliage.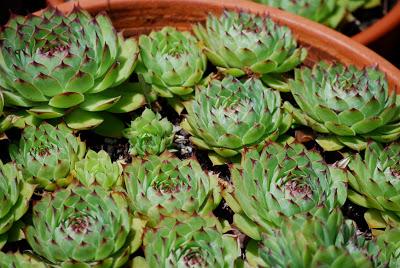 Sempervivums add little maroon tips to their pleasing rosettes of green.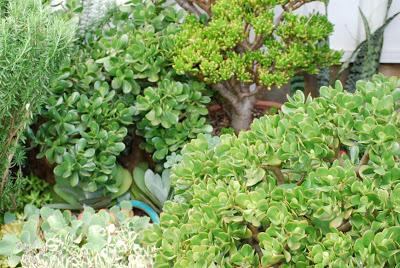 The succulents are such a sea of varied foliage colours.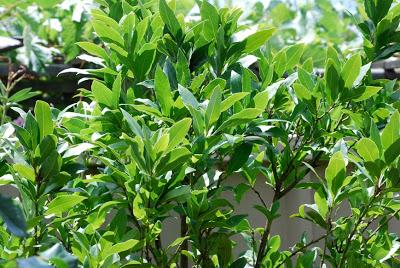 And finally, we arrive at the edible greens, of which there are many. Above, it's the classic evergreen goodness of bay leaves.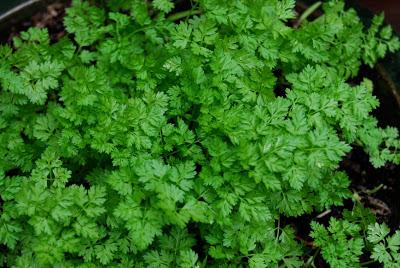 The newborn deliciousness of chervil, happiest in the semi-shade.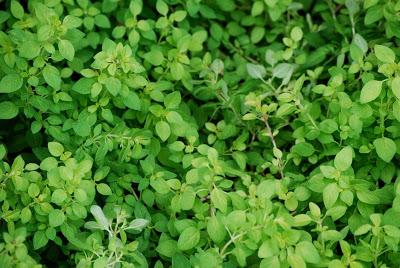 The golden oregano is never all that golden in December, but by the end of summer its color does justice to its name. Right now it's just light green.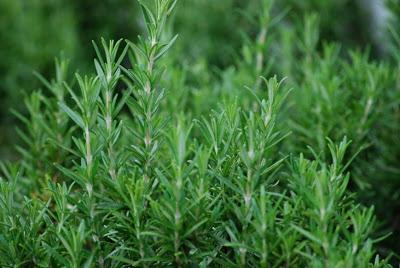 Rosemary is this same slightly silvery green all-year-round. Never changes, except for the appearance of the blue flowers in late winter and early spring.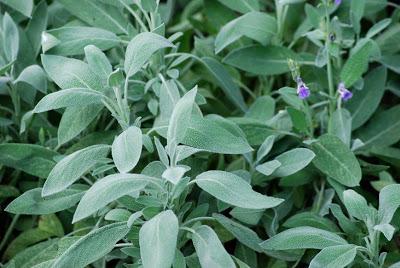 Sage is a long way down the silvery-green end of the spectrum. Every year I cut it back in mid spring, after it finishes flowering. On the left are the new-growth leaves, although it's such a willing flowerer that a few late straggler blooms are continuing on on the right.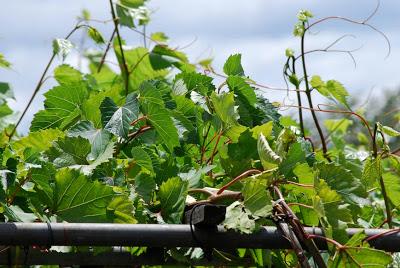 This is my neighbor Nick's grapevine, thriving as usual on his pergola of galvanised metal pipes. Nick's wife, Katarina, makes the nicest dolmades (meat and rice filling, Sparta-style) from the young new grapevine leaves. And in fact our neighbor on the other side, Soula, who is also Greek, makes terrific dolmades (rice and herb filling, Macedonia-style) from their grapevines, too.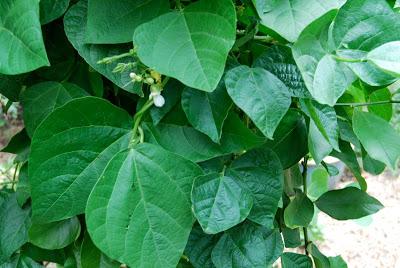 What's a story about garden greens without a green bean plant included? Already started harvesting the Blue Lake beans, and very nice and crisp they are, too.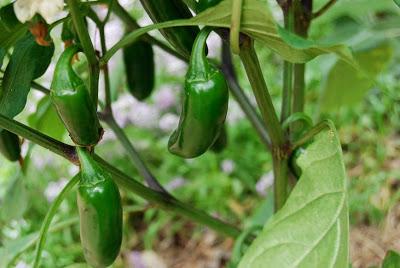 Green Jalapeno chillies, hotting up for summer.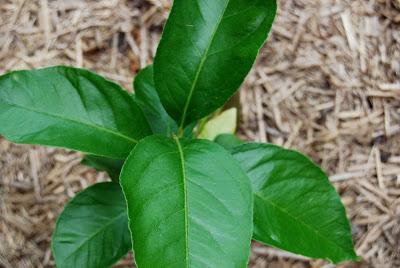 It's hard to beat the glossy green of citrus trees. I'd grow them even if they didn't bear fruit (but thank goodness they do).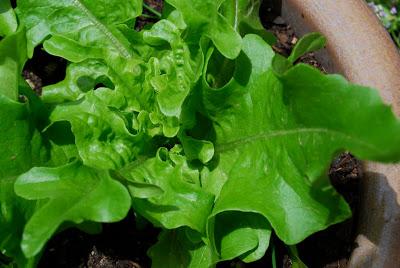 Lettuce comes in so many different greens I could have posted just about them.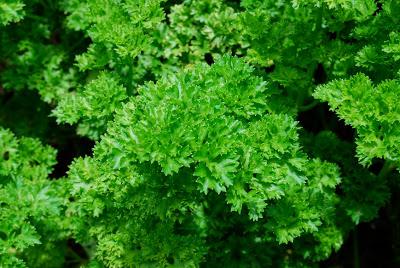 Pretty curly parsley makes the best little green border you can find.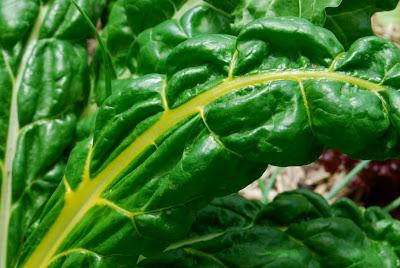 And silver beet merely asks what kind of green do you want? I had several to choose from, so I went for yellow-centred classic mid-green.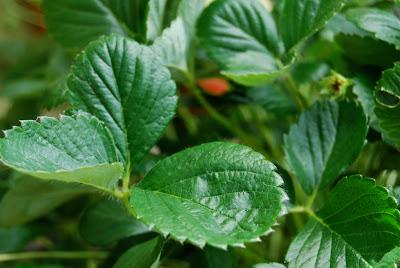 My hanging basket of strawberries was just a very pleasant green for a few months, but lately it has been pushed into the sidelines by the delicious red fruit which are coming on in a steady supply now. It's still a nice shade of green.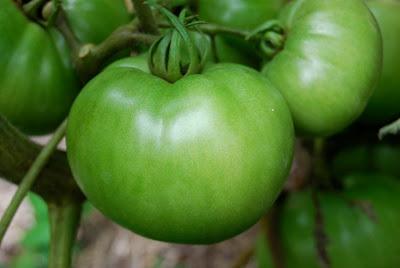 And finally, a green that I am hoping will soon turn to red. A Grosse Lisse tomato being coaxed slowly towards the salad bowl. Yes you can!
As I compiled this rather long parade of garden greens it has occurred to me that some winter-bound garden bloggers up north will probably just be calling out "boo, hiss, get off the stage". Sorry if I have rubbed anyone up the wrong way! 
However, my sister Helen has just flown over to Calgary in Canada, where things are around -20°C and getting colder, and there's definitely not much green happening outdoors. She's having a great time catching up with her daughter and her grandchildren, but she is missing a couple of things about home right now, so this blog is for you, sis!